Sophisticated Dorkiness is now officially coming to you from small town Minnesota.
Things have been quiet around here for the last several days because Boyfriend and I — with the help of family and many great friends — were in the process of moving 425 miles with a U-Haul full of stuff and one cranky cat. We left Madison on Wednesday, arrived at our new home on Thursday, and have been settling in ever since.
My sister, who is studying to be an architect, came up over the weekend and helped me out with all of the decorating things that Boyfriend couldn't care less about — a new bedspread, curtains, area rugs, mirrors, and the little things that take a space filled with furniture and make it feel more like home. I'm really happy with the way things are coming together; I'll have pictures soon, I promise.
My favorite space has to be the room where we put my desk and all my bookshelves. It's small enough that almost every wall is covered in tall shelves, making it about as close to a library as I'm likely to get in the near future. Unfortunately, I ran out of space for all my books, so I am on the lookout for one more shelf to finish out the space before everything is settled and I can hang the last of my art work.
I start work at my new job — editor of a small town weekly newspaper — tomorrow morning. I'm a whole bundle of nerves about it, but I know it's going to be great. This is exactly the job I wanted to have; I am so blessed this opportunity came my way and that my family, friends, and boyfriend were so supportive about taking it.
As part of keeping my nerves calm, I spent the time I had to read during the first few moving days re-reading Harry Potter and the Sorcerer's Stone. I've re-read this one a few times before, but every time I end up seeing something new. On this read, I was struck by what a good job J.K. Rowling does building the world of her series. Sure, the explanations and background are sometimes a little clumsily done, but on the whole she sets up her story and the rules of the world these characters live in really nicely in the book. The action of actually going after the Sorcerer's Stone doesn't happen until way, way late in the book, which is interesting since that's the part I remember most clearly from reading it.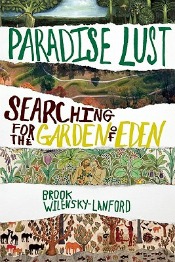 Right now I'm torn between a few different books. Part of me wants to keep with the Harry Potter kick and start on Harry Potter and the Chamber of Secrets. Another part is being pulled back towards nonfiction, particularly Paradise Lust: Searching for the Garden of Eden by Brook Wilensky-Lanford, which has one of the most awesome covers I've seen recently. I also have a strong urge to pick up my copy of Tom Perrotta's new book, The Leftovers, but I'm a little worried the book will be too emotional for me right now. With all the craziness going on, I need a book that's emotionally gentle (Thanks to Iris on Books for that explanation of comfort reading).
In any case, that's the general reading/life update for the moment. Boyfriend is off camping for the next week, so I am going to have plenty of time to get caught up with all the blogging business I've neglected over the last several weeks (So. Many. Reviews.) Happy Sunday!