As promised, I finally have enough of my stuff put away that I can show off some pictures of my new library/office in our house. The photo above is a view of the living room while standing on the stairs to the second floor. The front door is to the left, and my library is to the right. You can see one of my bookcases right behind my awesome reading chair.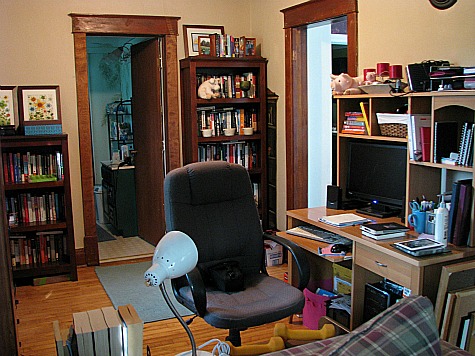 This photo is a view looking at almost all of my office/library. I've basically taken over this room for myself. Boyfriend has a room upstairs for his desk, tv, and favorite chair. What I love about the room is that every single wall has a bookcase, meaning when I sit at my desk I'm basically surrounded by books.
These are my two tall bookcases. The bookcase on the left has two shelves of read fiction, two shelves with review copies, and a bottom shelf with some random notebooks, poetry, and graphic novels. There are some YA and fantasy books sitting on the top. The bookcase on the right is all of my read nonfiction: regular nonfiction on the top shelves, memoir in the middle, and journalism/textbooks on the bottom. I also have my YA series books on the top (Harry Potter and His Dark Materials). The Hunger Games series will go up there when I get them back from my sister. Please excuse the mess on the floor — we're still getting settled!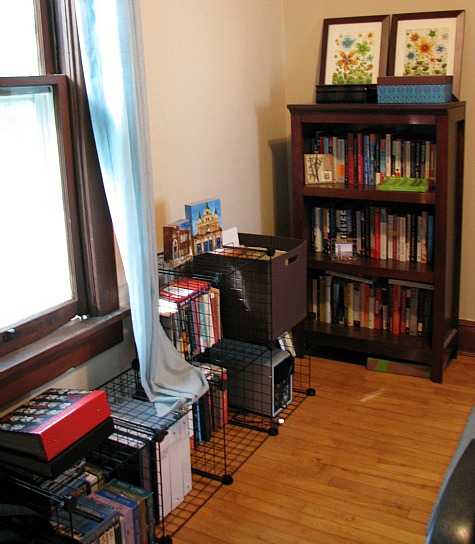 This is the part of the room I'm currently struggling with. The bookcase has all of my unread nonfiction that I've bought myself. But I ran out of room on the shelf for my unread fiction, so I had to improvise. I used these black customizable shelves to store my DVDs, big binders, fiction, and other random stuff for the moment. I still haven't decided what I want to do with this section in the long term. I'm leaning towards a nicer shelf under the window, or trading the three shelf bookcase for a tall bookcase like the other two. But I can't decide, and I'm out of money for new furniture at the moment!
So there you have it — my currently in progress library at our new home. I love having all of my books in the same place, and seeing them all arranged this way makes it seem like packing and moving the 18+ boxes from Madison to Morris was worth it.
P.S. I just saw the e-mail letting me know I was nominated for Best Nonfiction Book Blog for Book Blogger Appreciation Week this year. Thank you to the person/persons who nominated me — that's so flattering! Anyone else get nominated for any of the categories?