In the midst of The Move and other big life changes, I've found that reading fiction is somehow easier for me. I'm not sure why, but I'm certainly grateful since it made now a great time to read The Kitchen Daughter for BookClubSandwich. I'll admit I was a little skeptical about the premise — after her parent's death, a woman discovers she can communicate with the dead when cooking their recipes — but ended up satisfied with the book as a whole. (If you want a more detailed summary, the one on IndieBound sums things up nicely).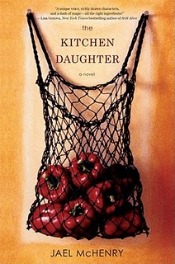 Reflecting on the book, there were two things about it that worked especially well for me. First, I enjoyed reading about the main character, Ginny. I didn't necessarily always like Ginny, but I thought she was intriguing. Although it's never labeled, it's pretty clear in the book that Ginny suffers from some sort of disorder (likely Asperger's syndrome), which makes it especially difficult for her to relate to and connect with others. Her parents spent their lives sheltering her, so after their death she is thrown for a loop. But instead of giving into her disorder, allowing herself to be labeled and treated like a victim, Ginny tries to stand up for herself. While Ginny could be prickly and frustrating and hard to understand, I wanted to know more about her.
I can't talk much about the second thing I liked, the ending, because I don't want to give too many spoilers away. Suffice it to say, things don't work out quite the way you might expect them too (if it's possible to make predictions about a book where ghosts materialize from recipes). I appreciated that the book ended up with a more complicated ending than I was initially expecting.
One of my favorite parts of doing BookClubSandwich is reading though all the other reviews of a particular book and pulling out the places where readers agree and disagree on the same things. In the case of The Kitchen Daughter, Ginny's voice/personality causes some disagreement. Andi (Estella's Revenge), the co-host of BookClubSandwich, actually found Ginny so frustrating she wasn't able to finish the book. Andi explains:
I found Ginny really hard to "be with" in the book. Her nervousness and social anxiety just made me feel nervous and anxious and drew the book out to a point that was almost painful for me to read. It grated on my nerves, got a bit under my skin, and ultimately I did not finish.
In contrast, Joy (Joy's Book Blog) enjoyed Ginny's voice. In fact, I think she describe why I liked it even better than I'm able to:
I suspect going through it quickly helped my reading experience because Ginny has the sort of brain that is intriguing to visit but you wouldn't want to live there. In fact, I got mesmerized by this narrator's voice and had difficulty putting it down.
And then of course there are the reviews that sum up things much better than I am ever able too. I totally agree with this note from Jill (Fizzy Thoughts) (even though I've not read Aimee Bender's book):
I think this is the book I expected The Particular Sadness of Lemon Cake to be. While not exactly lighthearted, it's got that itty-bitty bit of magic that doesn't turn into some sort of metaphysical weird shit that makes my brain hurt. And it's also not so sweet that it makes your teeth hurt.
Another thing a couple of reviews mentioned was that the writing in the book was really beautiful. Christa (Mental Foodie) mentioned this in her review, noting that Ginny often thinks about how people talk based on goods (spearmint gum, chocolate and espresso, etc.). I love when authors tell readers things about characters through their actions and thoughts rather than just stating how they are. It feels richer and more organic that way.
TheBookGirl (for the love of books) had a great section in her review that I think sums up my feelings on the book almost entirely:
I was very much taken with the premise of this book. In The Kitchen Daughter, McHenry gives readers a wonderful story about the durability of the human spirit, and the powerful role food can play in our lives. She has also done the seemingly impossible in writing a book in which there is not one iota of contrived tragedy or corny sentimentality, despite the fact that the story involves visits from the departed.
And, if you're curious about the recipes, Dawn (She is Too Fond of Books) made the "Midnight Cry Brownies" from the book and gave them a thumbs up. Works for me!
That's it for BookClubSandwich and our little discussion on The Kitchen Daughter. Thanks for those who participated!