Today's Topic: The world of blogging is continually changing. Share 3 things you are essential tried and true practices for every blogger and 1-3 new trends or tools you've adapted recently or would like to in the future.
Tried and True Practices
Be genuine. No one likes a fake person in real life, and that goes double online. You don't have to share all of yourself on your blog, but be sure the parts you do share come from the heart. Similarly, be kind. You may not always agree with others, but engage people with a sense of kindness rather than anger. It helps.
Reach out. Like I said earlier in the week, it takes reaching out to find community. You can write amazing posts on your blog, but if you don't do some work to help other people find you, no one will read them. It's just a fact.
Ask questions. This is true both in blog posts and in the broader community. I love ending my blog posts with a question because it gives people a place to jump off if they're not sure what to say. And some of my most interesting blog posts have been short pieces that just pose a question or dilemma for readers.
Outside blog posts, don't be afraid to ask if you don't know something. If it's HTML, what an acronym means, how to contact a publisher… really, anything. Just ask. Book bloggers are generous people and will help if they can.
New Trends or Tools
Google Docs. I live in Google Docs. I draft most of my posts there because it's easier to write without being distracted. I have shared spreadsheets with more people than I can count to keep blog projects organized. Google Forms are great for hosting contests. Learn to use Google Docs, it's amazing.
Slaughterhouse 90210. Umm… this probably doesn't count as a new tool, but maybe a trend? This Tumblr account mixes pop culture and books, combining quotes from classic literature with photos from tv, movies, and other media to make some pretty awesome commentary. I still don't quite know what to use Tumblr for, but this blog has found a perfect niche.
W3 Schools. If you have any questions about HTML or CSS, W3 Schools is the place to go. They have amazing tutorials and resources to help you teach yourself HTML basics and play around with new tools. This if the first place I stop when I can't figure out how to make something on the blog look or work they way I want it to.
And Thank You!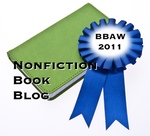 Yesterday they announced that Sophisticated Dorkiness was voted Best Nonfiction Book Blog this year. Thank you so much to everyone who nominated and voted for me — it's a huge honor. BBAW always makes me more inspired and excited about blogging, and winning an award just makes it a little sweeter 🙂
And congrats to all of the other winners this year. There are some great blogs on the list. And thanks to Amy (My Friend Amy) and all of her helpers for organizing BBAW again this year. You guys rock.