Has there been a breakout nonfiction book this year? You know, one of those titles that everyone is buzzing about, a nonfiction book that even literature lovers feel compelled to try because the word-of-mouth is just so good?
Last year we had The Immortal Life of Henrietta Lacks by Rebecca Skloot. That book had a great story — 10 years of research to tell an almost entirely unknown tale of medical ethics and scientific research. And on top of that, it was a great read that everyone seemed to be talking about. There were quite a few other pretty buzz-worthy titles (The Warmth of Other Suns, Unbroken, and The Emperor of All Maladies all come to mind), but The Immortal Life of Henrietta Lacks was probably the biggest nonfiction book of 2010.
But this year… I just can't think of a title that has the same kind of buzz across different circles of readers.
There have been a few nonfiction titles I saw get a fair amount of buzz across various sites on the Interwebs. Cinderella Ate My Daughter by Peggy Orenstein comes to mind, as does Sugar in my Bowl by Erica Jong. Sex on the Moon by Ben Mezrich was also a big deal earlier this year. I also think The Grand Pursuit by Sylvia Nasar, a story about the birth of modern economics coming out this month, is going to be big, but I can't be sure.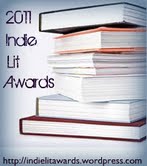 I've got popular nonfiction on my mind because today is the first day you can nominate titles for the 2011 Indie Lit Awards, book awards given by literary bloggers. As I've mentioned before, I'm the Director of the Nonfiction award, which means I deeply want to see some amazing books on the list. It's a little selfish, actually — I have to read all the books when judging rolls around in January, so I want them to be awesome.
(If you want to start nominating already, the nonfiction form is available online here.)
Last year I had a pretty good idea of a few books that would end up on the nonfiction list, but this year I'm drawing a total blank. In a change from last year, each participant can nominate five books in every genre, which should expand the pool we draw from to develop the short list for each category. Also, anyone can nominate books, not just bloggers. Good changes, right?
Do you have any favorite nonfiction reads from this year? Have you heard buzz about any big nonfiction titles that totally fell under my radar? Any predictions about nonfiction titles that will make the "best of" lists at the end of the year?
Photo Credit: atomicity via Flickr