Yesterday, I finally finished a book. And then I started and finished a second book. It was a good book day.
Finishing a book shouldn't be an exciting occurrence for a book blogger, but it was a big deal for me since I hasn't finished a book since I read The Art of Fielding by Chad Harbach over Labor Day weekend. I went 12 full days without actually finishing a book, which is entirely out of character. It's not that I wasn't reading. In fact, it felt like I was reading quite a lot. But I was also switching books constantly because I couldn't quite get into anything I was reading.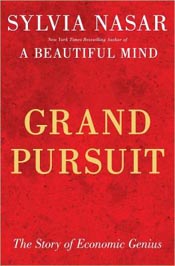 The first book I started and put aside was The Grand Pursuit by Sylvia Nasar. The book is a nonfiction look at the birth of modern economics, focusing specifically on the people who developed new theories of economics after Adam Smith's "invisible hand" theory. While I was enjoying the stories, the book was also going very slowly and I couldn't find the long periods of time I felt like I needed to get into it fully.
I set that one aside in favor of Population 485 by Michael Perry. Last Sunday I mentioned that I was going to see Michael Perry speak at a September 11 program, which is where I bought the book. Perry was a great speaker — funny, serious, and thoughtful — and I was excited to read the book as soon as I heard him speak. But I had some personal things come up during the week that took away from my enjoyment of the book, so I decided to set it aside for a little bit.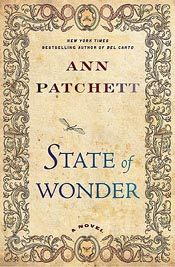 After that, I picked up State of Wonder by Ann Patchett because I got it from the library and it is due tomorrow. This is the book that finally settled me down a bit, and I spent a long time Friday evening and Saturday morning totally immersed in the story. Patchett really set the scene of the Amazon beautifully, and her writing moves effortlessly between past, present, and imagination in a way that it's amazingly fun to dissect.
My parents came to visit yesterday, but even with spending time hanging out with them, I found time to start and finish a second book, Fifth Avenue, 5 A.M. by Sam Wasson, a look at the making and cultural impact of the movie Breakfast at Tiffany's. I have a book tour review scheduled for later this week, so I won't say much other than that the book was delightful and prompted me to request a number of Audrey Hepburn movies from the library to watch this week.
Today I finally started Page One: Inside the New York Times and the Future of Journalism, a collection of essays connected to Andrew Rossi and Kate Novack's documentary of the same name. I'm not sure why it took me so long to pick this one up because, so far, it's really great. I like having a relatively straight forward book to get me back into thinking about journalism more analytically than I've done since I finished my master's awhile back.
However, I probably won't have much more time to read today, since it's football time! We got cable installed this week, so I can finally spend Sunday hunkered down in front of the tv, working on blog stuff and being annoyed with the Vikings. Gotta love the weekend! Happy Sunday!