Earlier this summer, my sister Jenny and I decided to read and review The Help by Kathryn Stockett. We both read the book over our 4th of July vacation, and had a race to see who would finish first. We have a long-standing competition about reading speed that dates back all the way to the early Harry Potter books. It's vicious.
In this race, Jenny beat me out… but just barely. She also very responsibly answered all of the questions we came up with for our review in a timely manner… while I procrastinated and was lazy! However, finally, I bring you the latest edition of The Sisterhood of the Summer Book Reviews.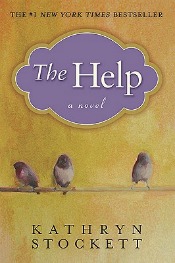 Why did you decide to read this book?
Jenny: I wanted to read this book because I had heard a lot of good things about it from some people that I knew. I also really enjoy reading historical fiction because I love learning about the past, but my favorite way to do that is through stories from the point of view of people who lived during that time. Now I know historical fiction is not true, but I like to imagine what it might have been like to live during that time, or to have some of the challenges that existed back in that time.
Kim: Because you picked it! Also, there's been a lot of hype about the book, so I get curious about fiction when it seems so universally loved by the people who read it.
How was the dialect to you? Was it confusing to follow?
Jenny: At first I found it a little difficult to follow. I was stumbling over words, and having to re-read sentences to understand what was going on. But as I got further into the book got used to the dialect and reading became a lot easier and quicker.
Kim: Honestly, I don't think I even noticed. I don't remember ever thinking, "This is hard to read!" or feeling frustrated by it.
Do you think the story is worth all the buzz that this book has received?
Jenny: I do I think it is a strong book with good character development as well as the way that such a controversial issues is explored from so many points of view, was probably challenging to write but made the book a much more interesting piece to read and explore.
Kim: I thought it was a really good story. I sat down to start the book on a Saturday, I think, and basically read it straight through. The premise was something I didn't know much about, most of the characters were fully-developed, and there was a good sense of tension in the plot. I liked reading the book a lot.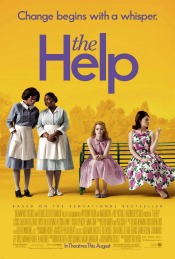 What did you think of the movie?
Jenny: I really liked the movie. I am always worried when I go to a movie based on the book that it just won't be the same. However, after finishing this movie. I was satisfied. Obviously not everything that was in the book was in the movie, but what they chose to remove I did not miss (unlike a lot of other book movies I have seen) It was a movie that can stand on its own without the book, but which also can be enjoyed if you have read the book. That and I love Emma Stone, and the women who played Hilly was just frightening (all the actresses were great).
Kim: I thought they did a good job of reflecting the bigger points of the book while dropping out some of the plot lines that might have made it confusing. The acting was stellar, especially Skeeter, Aibileen, and Minny. I think I would have liked a little more subtlety in Hilly, but she's pretty one-sided in the book so maybe that wasn't an option.
Did the two of you have different reactions to the book? Different parts you liked the most? Different characters you related to?
Jenny: I really liked the entire book, however I most related to the character of Skeeter. The way she felt like she didn't fit in, but had a viewpoint that she wanted to across, and something she believed in even if it was not what everyone wanted her to believe. My favorite part of the book was the changes that the characters went through. No one went from one extreme to another, rather they slowly transformed and change. They slowly became willing to share their stories, slowly realized perhaps the status quo was not the way things should be done. It is a more realistic and believable transformation. And I really loved the characters of Minny and Cellia and their relationships.
Kim: I also liked Skeeter, even if her role as a journalist wasn't as big of a deal as maybe I would have liked (I'm predictable!). I'm not sure if I related to any character in particular though — they all really seemed of a different time and place than me.
As sisters, what do you think of this as a book about women? As young women, what do you think about how times have changed or not changed?
Jenny: I like how it empowered the women while not turning them into crazy feminists. I enjoy reading books with strong female characters who do their own thing. I think times have changed in terms of what the issues are our world is facing. However, I still think that their are more stories of people being mistreated and no one talking about it that should be told. I wish their were even more courageous writers female or male who would write about things that bother them and seem to bother no one else.
Kim: I think the biggest change is that we don't expect to see such blatant racism today. Things are better than they were, but certainly not perfect. Although there is a tendency to think that racism and sexism aren't issues anymore (which definitely isn't true), I think we're far less accepting of those things than we used to be. I agree with Jenny that more writers should tackle the things that bother them, and I do think that's happening… we're just not always as inclined to read it.