Off the Stacks is a weekly-ish feature where I highlight a nonfiction book I'm curious about but will probably run out of hours in the day to actually read. I'm hoping that by highlighting titles this way, I can encourage other people to give the book a try, and, if it's great, consider nominating it later this year for the Indie Lit Awards. Consider these books stamped with the "Sophisticated Dorkiness Seal of Curious Approval."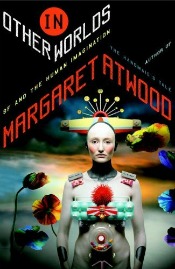 Title: In Other Worlds: SF and the Human Imagination
Author: Margaret Atwood
Publisher: Random House
Nonfiction Type: Literary Discussions
Topics Covered: Science fiction, literary forms, speculative fiction, literary theory
What It's About: In Other Worlds is an exploration of Margaret Atwood's relationship with science fiction – from her first reading and writing attempts as a child through her studies at Harvard and culminating in her work as a writer and reviewer. The book collects Atwood's lectures, reviews, and other writing on the topic together in one book.
Why I Want to Read It: MARGARET ATWOOD! SQUEE!
Ok, besides that… I love literary theory and discussions about how genres grow and develop. The book includes an exploration of the differences between "science fiction" and "speculative fiction," which looks especially awesome.
Who Else Might Like It: Anyone who loves Margaret Atwood, science geeks, literature nerds, people who are awesome.
Reviews: Publishers Weekly | The Book Case |