I couldn't let another Sunday go by without posting the books I picked up at our local university library book sale earlier this month. I love library book sales, but this one has always been particularly good because there's such a wide variety of academic and popular nonfiction to choose from. It's also really well-organized by topic, which makes it easier to browse.
But, without further ado, here's my pile: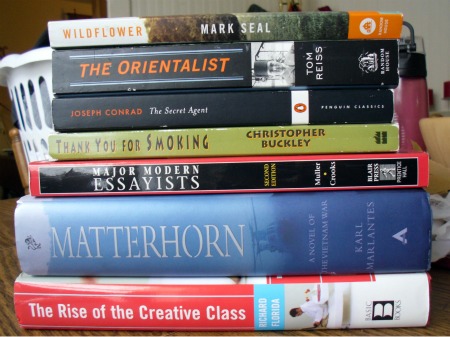 The first book on the pile is Wildflower: An Extraordinary Life and Mysterious Death in Africa by Mark Seal, which was an impulse grab during my last perusal of the Biography/Memoir table. The book is about Joan Root, an environmentalist and filmmaker, and her life and romance in Africa.
Next is The Orientalist: Solving the Mystery of a Strange and Dangerous Life by Tom Reiss, another grab from the Biography/Memoir table about "a Jew who transformed himself into a Muslim prince in Nazi Germany." That just sounds awesome.
I've had a oft spot for Joseph Conrad ever since I read Heart of Darkness in high school, which is why I brought home a copy of The Secret Agent by Joseph Conrad. I read Lord Jim in college and and didn't like it as much, but I'm willing to give Conrad another shot.
I picked up Thank You for Smoking by Christopher Buckley because I loved the movie and think the book might be funny. I think I read a "meh" review of it at one point, but for $.50 it's worth a look.
I have a major weakness for buying essay collections, so of course I nabbed a copy of Major Modern Essayists by Gilbert H. Mueller and Alan F. Crooks. The problem is that I buy collections and then never read them! Honestly, I must have almost 10 of them on shelves that I just never seem to pick up. I also have this idea to try and read an essay a day for a full year, but that's probably a pipe dream 🙂
I may have squealed out loud and scared an undergrad when I saw a copy of Matterhorn by Karl Marlantes on the popular fiction table. I still haven't read the copy of Marlantes' memoir I got at BEA (shame!), but perhaps now I can have a Marlantes Read-a-Thon some weekend.
And finally, The Rise of the Creative Class by Richard Florida, a look at the growing role of creativity in the economy, which I think came to my attention after a friend read it a few years ago.
As for what I'm reading today… not much! I've been slowing working through The House of Mirth by Edith Wharton, which I really like but also have to read carefully to be sure I'm understanding all of the subtext and social comedy. I also have a lot of blogging that I want to get doen today, so I'm not sure I'll have much time to read. Happy Sunday everyone!