BAND — Bloggers' Alliance of Nonfiction Devotees — is a group organized to promote the joy of reading nonfiction. We are "advocates for nonfiction as a non-chore," and we want you to join us. Each month, a member of BAND hosts a discussion on their blog related to nonfiction. 

The host for November's BAND discussion is Amanda (Opinions of a Wolf) who writes about her tendency to read books related to specific social causes. She asks:
Do you read nonfiction to help support a cause(s)?
The short answer to this question is yes, I love finding a topic I care about and reading as much about it as I can. I have a particular soft spot for books about the state of women in the Middle East and books about current social issues, social anthropology books, perhaps. But I decided to take a different angle when answering this question and share a book list for a cause I'm hoping to learn more about: the financial crisis.
My interest in the topic got it's first big boost earlier this year when Boyfriend and I rented Inside Job, a documentary by Charles Ferguson about the financial meltdown. In the movie, Ferguson interviews a number of authors, which of course caught my eye. I started writing down titles and doing a little research until I had a pretty extensive list a books to read to teach myself about the financial crisis, an issue that makes me more and more frustrated with each small new piece of information I understand.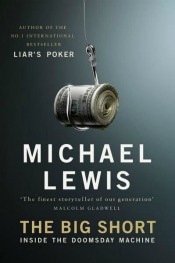 I got a start on my list over the weekend when I finally picked up The Big Short: Inside the Doomsday Machine by Michael Lewis, which tries to explain the causes of the crisis by looking at the few people who actually profited during the collapse by betting against the major Wall Street investment firms. Lewis focuses on a few different and very eccentric people, but what they have in common is the bravery (or craziness) to go against the grain in a huge way.
I have to admit that I didn't understand about half of the financial terms or issues that Lewis was writing about, but that didn't stop me from getting into the book. I could have used a glossary to refer to as a way to help remind me what credit default swaps and collateralized debt obligation are, but I suppose that's what Wikipedia is for. The fact that most people on Wall Street and most of the people making the various trades didn't have any idea what they were dealing with either also probably made reading without entirely comprehending more acceptable.
In any case, by the end of the book (after Lewis had explained the series of debts and betting and false financial markets that the players in the game were messing around with multiple times and in multiple ways) I felt like I was starting to get a grasp on what had happened. And that makes me even more confident that putting together a reading list on the crisis could help make things marginally clearer. These are the books I have on my list so far:
What causes do you like to read about? Any other economics books I should add to my list?