BAND — Bloggers' Alliance of Nonfiction Devotees — is a group organized to promote the joy of reading nonfiction. We are "advocates for nonfiction as a non-chore," and we want you to join us. Each month, a member of BAND hosts a discussion on their blog related to nonfiction. I am woefully behind in participating (shame!), but I'll be catching up over the next two days before our November topic is posted next week. 
The host for our September nonfiction discussion was Cass of Bonjour, Cass! who opened up a discussion about her love of nonfiction audio books.
I admire people who can listen to audio book while cleaning or doing dishes or folding laundry or working out… but at this point I just seem to not be one of those people. The only time I tend to get really into audio books is when I'm driving, particularly for long distances.
When I lived in Madison and often drove back to see my parents in Minnesota, I could finish an audio book on one trip. Perfect! Now that my drive from where I live to where my parents live is shorter, I can't quite get a book done on a single trip. Consequently, I've started a couple nonfiction audio books recently, but just never got around to finishing them.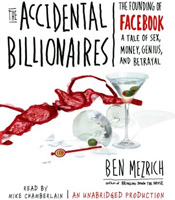 The first was The Accidental Billionaires by Ben Mezrich, his account of the founding of Facebook that was the basis for last year's movie The Social Network. I got through all but the last discs of this one… but then didn't bother to finish it. I can't pinpoint a particular reason either, other than, perhaps, having seen the movie and read a lot about Facebook, I already sort of knew enough about what happened to make finishing seem unnecessary.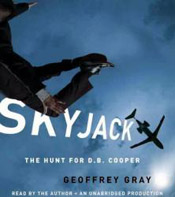 The second was Skyjack: The Hunt for D.B. Cooper by Geoffrey Gray. Again, a really fascinating subject: the baffling case of a mysterious hijacker who jumped from a plane with $200,000 and disappeared. I'm not sure why I haven't finished this one either; I just haven't felt compelled to make adjustments to my everyday routine to fit audio books in and don't see myself grabbing the book again on my next car ride unless someone gives it a huge thumbs up.
Honestly, I'm disappointed by my dwindling interest in nonfiction audio books (or really, audio books in general), since I've always found them a great way to knock books off my TBR pile when I'm stuck doing an activity that's less fun than reading.
That said, Boyfriend and I are planning a vacation over Thanksgiving that will likely involve more than 15 hours of driving over five days, so we're open to suggestions. What is one audio book (fiction or nonfiction) that you could not stop listening to?