I went on a stunt memoir reading binge this week that I think has reinvigorated my reading brain. Huzzah!
I've written a lot about my love of stunt memoirs. For our first BAND discussion, I called them the "candy in my nonfiction diet" because reading then doesn't demand a lot out of me. They're also my "genre kryptonite" — a type of book that I have a strange weak spot for reading. I've also thought that perhaps stunt memoirs are my nonfiction form of chick lit.
Personally, I like the dessert comparison best because I like the idea of cultivating a well-balanced reading diet where the different kinds of books I love to read have a balance between stories that help my brain grow and the books I like to read for the rush that comes from whipping through a story that's easy. I also like the idea that dessert can fall on a quality spectrum, from cotton candy to a fine cheesecake, the same way I see stunt memoirs.
Because I read the three books in my stunt memoir binge without really taking notes or thinking too much, I decided to do mini-reviews of them all together. Read on for my thoughts about My Year with Eleanor, Falling for Me, and Learning to Breathe. 
Cranberry-Orange Scone: My Year With Eleanor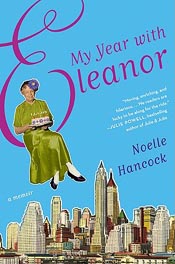 My first stunt memoir this week was My Year with Eleanor by Noelle Hancock. After losing her demanding job as an entertainment blogger, Hancock was at lose ends, totally unsure about what to do next and petrified of, well, a lot of things. After seeing a quote from former first lady Eleanor Roosevelt on a coffee shop black board — "Do one thing every day that scares you" — Hancock decided to spend a year facing her fears and learning to live like Eleanor.
I thought this book was like eating a cranberry orange scone — it seems healthy because there's some fruit in it, but basically it's just like eating cake (which I also love). While I liked reading about Hancock taking on her obvious fears — sharks, heights, speaking in front of people — I think she  missed a lot of opportunities to explore what it means to face our emotional fears. I really liked reading this one, especially learning more about Eleanor Roosevelt, but couldn't shake the feeling that Hanock could have pushed the storytelling a little more.
Skittles: Falling for Me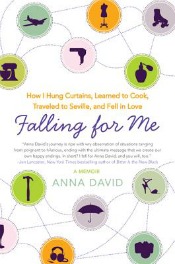 My second stunt memoir was pure sugar — Falling for Me: How I Hung Curtains, Learned to Cook, Traveled to Seville, and Fell in Love by Anna David. This is another one that starts out with a mostly-successful, mid-career woman who wonders if she's made the right choices in her life.
In the midst of mourning the end of an inappropriate fling, David comes across a copy of Sex and the Single Girl by Helen Gurley Brown, a mid-sixties lifestyle guide that preaches self-empowerment and femininity. David takes the book on as a lifestyle guide, using Gurley Brown's advice about all aspects of life to see if she can learn to love herself more and, perhaps, find the love of her life along the way.
This book is basically nonfiction chick lit, a bag of Skittles that you can just inhale without ever noticing how many calories you've consumed. It's got fashion, decorating, cooking, sex and romance, along with exactly the sort of slightly-flawed but still pretty awesome narrator who wants to find love but, spoiler alert, ends up finding herself. The books not especially deep and David doesn't make any personal revelations that haven't been written about before, but I still liked reading it.
Cheesecake: Learning to Breathe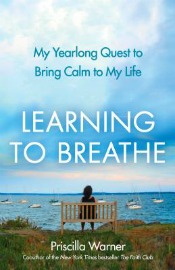 And finally I grabbed Learning to Breathe: My Yearlong Quest to Bring Calm to My Life by Priscilla Warner, which was like ending my dessert binge with a fine cheesecake. Warner has a good life — supportive husband, great kids, and a best-selling book. However, her life is marred by persistent panic attacks that can shut her down with almost no warning. In this book, Warner sets out to try and find her inner peace, to stop her panic attacks with a combination of spiritual and alternative therapies.
I called this one cheesecake because I think it has the most sophisticated premise of the three stunt memoirs I read this week, but still is a pretty sugary read. Like the other two, Warner is writing about taking on fear and dealing with issues in the past that affect our present. While I enjoyed learning about different types of therapy and spiritual philosophies, by the end the book felt a little repetitive — one meditation retreat starts to sound like every other meditation retreat. Still, Warner is a sympathetic narrator and illuminates ideas and groups that I wasn't familiar with.
On to my vegetables…
When I finished Learning to Breathe on Saturday morning I felt like I had all consumed all of the sugary books I could handle. My brain felt rested, and I felt a little more energized in my reading life. Capitalizing on that energy, I picked up a book I've been meaning to read but avoiding because it seemed too difficult: The Big Short, Michael Lewis' take on the origins of the current financial crisis.
The Big Short is also the starting point for my contribution to November's BAND discussion about reading for a cause, which I'm hoping to have posted for tomorrow!
Do you have any favorite types of books that you read when your brain needs a break? What books are the dessert in your reading diet?