It's been a weird week around here. I got a strange cold/fever thing on Monday which kicked my butt for most of the week. I still had to do everything I'm supposed to do at the newspaper, which left me with no physical or mental energy outside of work to do much except watch television and do a little reading. Getting an extra hour of sleep today was amazing.
I must be on the mend, however, because I managed to finish two books this weekend — The House of Mirth by Edith Wharton and Sugar in My Bowl: Real Women Write about Real Sex by Erica Jong. I wouldn't normally talk about such different books together, but it struck me as interesting that I'd read books so focused on relationships and sexual propriety (with such obviously different takes on it) right after one another.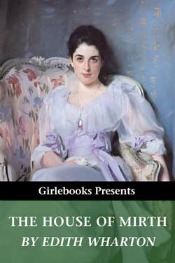 The House of Mirth is Edith Wharton's first major book, published in 1905 and set in New York in 1890 among the city's ruling class. Our protagonist is Lily Bart, " a woman who is torn between her desire for luxurious living and a relationship based on mutual respect and love." She's beautiful, charming, and of good social standing, but rejects or sabotages many proposals (that would bring money or love, but not both) through some questionable decisions.
The book is a "novel of manners," which makes it entirely preoccupied with how people see each other and the propriety of certain actions. For a book with absolutely no explicit sex, the characters lives are completely dictated by what is and isn't appropriate sexual behavior. Something as simple as going to a man's private room or spending time with a married man is enough to throw Lily entirely out of her current social circles.
The misunderstandings and rumor mills in the book are ridiculous, but on the whole the story was fun to read. I had to move through the book really slowly to be sure I was getting all of the  implications and innuendo that were going on, but I liked that. It's not a book for the impatient reader, I imagine, but for my first experience with Wharton I was definitely pleased. I think I'll probably grab The Age of Innocence Next.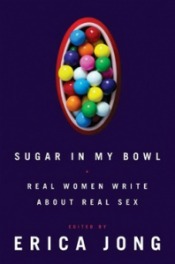 And now for the sex… I'm not sure why I ended up grabbing Sugar in My Bowl to read last night. It's been on the edge of my mental TBR pile since BEA in May, but I never seemed to grab it. Maybe my brain was just clued in on the fact that the perfect read after a novel of manners would be a book that is entirely and explicitly about sex
Sugar in My Bowl is a collection of essays, short stories, and other writing by women about sex. I thought it was all nonfiction, but it turns out there's a mix of genres in the collection. I found that a little unsettling — I don't necessarily mind memoir or pieces where nonfiction writers fudge with the facts for the sake of story, but not always know if the particular chapter was fiction or nonfiction felt odd, especially with the idea that the book would be about "real sex." (Yes, I know, sometimes fiction can be more real than nonfiction, but that's not my point…)
However, on the whole the collection was really fascinating. I'm not really a person that talks about sex much, so having essays that ranged from the prim to promiscuous really pushed my comfort level as I read. It helps that, throughout, the writing is very good, keeping the focus on the topics of the pieces rather than having some stand out for being better prose than others.
My favorite chapters were "Prude," where Jean Hanff Korelitz writes about how she wrote a sex-novel under a pseudonym even though in real life she blushes to talk about sex; Jessica Winter's "scientifict study" of best sex practices in "Best Sex Ever: A Systematic Review with Meta-Analysis;" a discussion of how feminism changed sex for younger women by Molly Jong-Fast ("They Had Sex So I Didn't Have To"); and "Sex With a Stranger" by Susan Cheever, which featured my favorite quote from the whole collection:
That one-night stand led to a thirty-five year love affair — the most enduring love of my life. Some kind of deep intimacy between us had been released, an intimacy that remains decades later. …

That is the real danger of a one-night stand. Not that it will lead to nothing, but that it will lead to everything. In this way, casual sex is excruciatingly hazardous. Those who are not ready to have their life changed should probably abstain.
Normally I wouldn't review two such different books together, but they were a pretty crazy juxtaposition, especially considering how far it shows how much we've changed (or perhaps not changed) when it comes to talking and thinking about relationships. Lily creates a scandal by visiting a man's apartment by herself, and now we can write an entire book about sex and what it means.
However, as Jong points out in the introduction to Sugar in My Bowl, many of the women who contributed wanted to ask their partners if it was ok for them to contribute. A woman wrote a sex novel, but is too embarrassed to put her real name on it. We seem to have a free and liberated sexual experience, but younger women may be stepping away from that.
My sick brain isn't making much sense this morning, I think, but maybe you see what I mean? If not, that's ok — just know I liked both of these books, it was interesting to read them back-to-back, and I'd recommend both if the subjects interest you.