Off the Stacks is a weekly-ish feature where I highlight a nonfiction book I'm curious about but will probably run out of hours in the day to actually read. I'm hoping that by highlighting titles this way, I can encourage other people to give the book a try, and, if it's great, consider nominating it later this year for the Indie Lit Awards. Consider these books stamped with the "Sophisticated Dorkiness Seal of Curious Approval."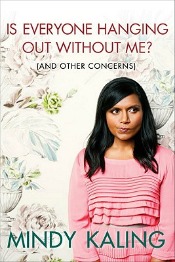 Title: Is Everyone Hanging Out Without Me? (And Other Concerns)
Author: Mindy Kaling
Publisher: Crown Archetype
Nonfiction Type: Personal essays
Topics Covered: Immigrant childhood, feminism, comedy, television, entertainment, Hollywood, friendship, romance
What It's About: Mindy Kaling is an Emmy-nominated author and actress on one of my favorite shows, The Office. She's also a comedian, playwright, and astute observer of what it's like to be a female in comedy in Hollywood.
Why I Want to Read It: I love The Office, and I love Kaling's Twitter feed, which makes me think the book will be right up my alley. I've been disappointed by some books by young, female essayists (Sloan Crosley's I Was Told There'd Be Cake let me down), but I get sense this will be more astute. I really liked some of what Kaling had to say in a recent piece she wrote for The New Yorker about chick flicks, which included gems like:
I regard romantic comedies as a subgenre of sci-fi, in which the world operates according to different rules than my regular human world. For me, there is no difference between Ripley from "Alien" and any Katherine Heigl character. They are equally implausible. They're all participating in a similar level of fakey razzle-dazzle, and I enjoy every second of it.

And since when does holding a job necessitate that a woman pull her hair back in a severe, tight bun? Do screenwriters think that loose hair makes it hard to concentrate?
Who Else Might Like It: Fans of Tina Fey or Nora Ephron, The Office fanatics, women in comedy, movie lovers
Reviews: