Lately, I haven't joined any reading challenges. I used to sign up for quite a few, but I never managed to complete any. It seemed that once I put together a book list for a challenge, the books on the list took on some sort of virus that made them entirely uninteresting. I wish I had a name for the phenomenon… suggestions?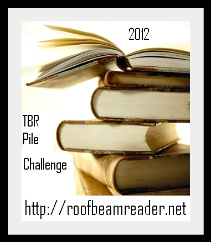 But this year I decided to join one challenge. I blame Jill (Fizzy Thoughts) and her post about Adam's (Roof Beam Reader) 2012 TBR Challenge for breaking my challenge fast. The goal of the TBR Challenge is to read 12 books that have been your "To Be Read" pile for at least an entire year. And you're allowed to put 14 books on the list, in case two of them end up not working out.
I blame Jill for me signing up for this challenge because on her sign-up post she put all her challenge books on a "Shelf of Doom," and I love the idea of having a Shelf of Doom in my house. Unfortunately there aren't any open shelves to turn into the Shelf of Doom right now (currently the pile is sitting on top of another bookshelf), but I'm hoping Santa will be remedying that problem with a new bookshelf for Christmas!
Anyway, here's a look at the 14 books I decided to put on my own Shelf of Doom:
Complications by Atul Gawande — I got this one from my parents for Christmast last year and still haven't read it.
Ex Libris by Anne Fadiman and Rereadings, edited by Anne Fadiman — I've had both of these on my TBR list since I read The Spirit Catches You and You Fall Down a few years ago.
Zeitoun by Dave Eggers — I've wanted to read this one since I read Eggers' memoir, A Heartbreaking Work of Staggering Genius (one of the first books I reviewed here on the blog!).
Coyotes by Ted Conover — Conover is a major figure in the literary journalism movement, and I've had this one on my shelves for a couple of years.
House by Tracy Kidder — I want to read all of Kidder's books, and this is his second (published in 1985).
Possession by A.S. Byatt — I didn't love the collection of Byatt short stories I read for book club last year, but many bloggers I love really love this book, so I want to read it.
Oryx and Crake by Margaret Atwood — I'm an Atwood fan girl, so I can't wait for this one.
Kiss My Tiara by Susan Jane Gilman — Gilman is one of my favorite feminist memoir/essayists, and this is her first book. I just found a copy of it at a use bookstore, which is awesome!
The Race Beat by Gene Roberts and Hank Klibanoff — I can't remember when Cass (Bonjour, Cass!) convinced me to read this book… I think it was more than a year ago?
The Rise of the Creative Class by Richard Florida — A friend of mine read this when we were in high school, and I've been curious about reading it ever since.
The Things We've Been Silent About by Azar Nafisi — I loved Nafisi's first memoir, Reading Lolita in Tehran, but haven't read her second yet.
Moneyball by Michael Lewis — I wanted to read this one before the movie came out. but I didn't quite make  it. I'm hoping to find time in 2012.
There Are No Children Here by Alex Kotlowitz — I've had this one on my shelves since I read Random Family by Adrian Nicole Leblanc.
So there you have my Shelf of Doom for 2012. I'm pretty optimistic about finishing this challenge. Every book on the pile is one I've bought because I want to read it, but just have never made the time to pick up. I can read one of them per month, no problem… right?
As for my reading today, I'm hoping to finish Donovan Hohn's Moby-Duck, an epic "journey into the heart of the sea and an adventure through science, myth, the global economy, and some of the worst weather imaginable." It's pretty fascinating so far, and I think I can finish it this morning before football starts at noon. My team made it to the playoffs in my fantasy football league, so I am cheering hard today. There's money on the line!
What books would you put on a hypothetical "Shelf of Doom"? What are you plans for this beautiful Sunday?