BAND — Bloggers' Alliance of Nonfiction Devotees — is a group organized to promote the joy of reading nonfiction. We are "advocates for nonfiction as a non-chore," and we want you to join us. Each month, a member of BAND hosts a discussion on their blog related to nonfiction. 
The host for January's BAND discussion is Joy (Joy's Book Blog). Because January is a time of new beginnings when people set goals and channel hopeful energy "into communities around interests like reading 100 books in a year or training for a marathon or taking a photo every day." Joy asks:
What book or books have you used or are you using to support a goal, resolution, or project?
This has been a tricky one for me to answer since I didn't really set any formal resolutions for this year. I have a lot of things I'm thinking about trying to do — lose 15 pounds, do a Couch to 5K program, develop a healthier lifestyle, learn to cook better, learn to bake bread — but I haven't quite gotten that little spark of motivation I need to seriously make any of those things happen… yet.
Perhaps I need to start reading books about how to set goals and get motivated? Or not, because that sounds boring.
The one lifestyle change I really do need to make, starting yesterday, is improved focus. For whatever reason, it's become almost impossible for me to sit down and actually focus on the tasks I have in front of me — mainly writing — when I'm at work or at home.
I've become one of those people with eight or nine or ten or eleven tabs open in my browser, constantly clicking through to check Google Reader and Hootsuite and Facebook and Pinterest and Tumblr, only to get through and start the process over again less than five minutes later. It's like I've turned into a information junkie, constantly clicking through my social networks for my next fix of a funny video or book review or news story. It's ridiculous.
But honestly, I'm not sure where to start looking for books that talk about focus that will be engaging enough to read. I don't like self-help guides, but I also don't think the kind of narrative nonfiction I like to read about how the brain works is going to be particularly helpful either. I need books that are a combination of engaging and practical… which is tough.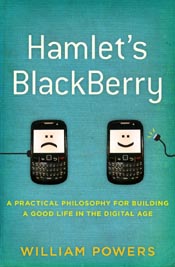 One book that I read last year and enjoyed was Hamlet's Blackberry by William Powers, ""A crisp, passionately argued answer to the question that everyone who's grown dependent on digital devices is asking: 'Where's the rest of my life?'" I liked the book because it balanced out the alarmist ("Technology is ruining our minds!") with the enthusiastic ("Technology will save humanity!") and offered some good, practical suggestions for unplugging.
Another book on my list is a new release, The Information Diet by Clay Johnson, which seems like it could be the In Defense of Food of media consumption. While I wasn't over-the-top in love with In Defense of Food, I did like the way author Michael Pollan blended science and anecdotal evidence to come up with some practical advice for eating better. The Ominvore's Dilemma was a more engaging book, but In Defense of Food was much more useful in my day-to-day life.
Another book I've had my eye on is Now You See It: How the Brain Science of Attention Will Transform the Way We Live, Work, and Learn by Cathy N. Davidson. Davidson, a researcher at Duke University, outfitted the entire freshman class of 2003 with free iPods, then waited to see what happened. As it turned out, students across campus found academic uses for the devices, prompting a discussion about how schools and workplaces need to adjust to a new, digital society. This may actually be in the wrong direction for what I'm looking for, but I think it's worth a look.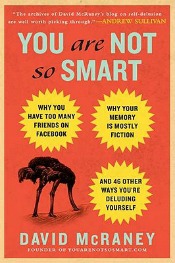 Another recently-released book I could consult is You Are Not So Smart by David McRaney. In the book, McRaney goes through many of the misconceptions we have about how we think and the reasons why our brain deceives us. I first heard about McRaney after reading a post on his blog (of the same name) about procrastination, which is still the most coherent and interesting explanation of why we put of tasks we know we should do that I've ever read.
But I don't know. I'm not entirely convinced these books are quite what I'm looking for or, to be honest, quite what I need. Does anyone have a book that will jump up and down on my desk when I'm getting distracted and yell, "JUST WRITE YOU IDIOT!"
Do you have any suggestions for books about focus or techniques for getting offline and being more productive in the real world? How are you dealing with being an information junkie?