Last week I posted a list of mini-reviews to finish out 2011 — books I read but never formally wrote about for one reason or another. One of the books I missed was Priceless by Nicole Richie, which I read as part of a series of literary dares with a dear friend in Madison.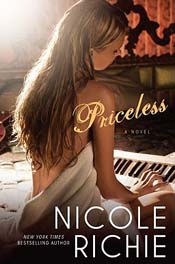 When I was doing some blog maintenance last week, I came across an un-posted "review" that I wrote soon after finishing Priceless (Yes, I did actually read the book!). Rather than let more than 1,100 words of bitter sarcasm go to waste, I turned the review into a post over at Book Riot that went up yesterday where I talked about the Not So Great Expectations Book Club and my thoughts on reading Richie.
Here's a brief preview, a couple of disconnected paragraphs, which I hope will entice you to click on the link and read my rant in full:
It's hard for me to express just how low my expectations for Priceless were. I don't like celebrities or gossip or fashion or reading about beautiful people. I just find it… annoying. And I wasn't expecting Richie to be a Great Writer or anything. I mean, all you have to do is look at the book cover to know how this book is being sold: the name of the author is about twice as big as the title of the book. This is a book By Nicole Richie… and that's about the best thing going for it.

…

After Charlotte leaves New York to head to New Orleans, she's immediately taken in by the woman who cared for her when she was a child. Charlotte worries that she's only leaving New York with $5,000… how could she possibly survive on that, even when she's crashing on a couch for FREE? When she goes out to "find a job," she stumbles into a vintage clothing store and is immediately befriended by one of the most popular girls in New Orleans, the daughter of a rich family in the city. That night, they get dressed up and head to a club. But, it's different! This time they're decked out in sweet vintage clothes instead of current designer duds. See, Charlotte is CHANGING! For the better!
I have to admit, sometimes it's fun to be bitchy and sarcastic about a book, especially when being bitchy isn't going to hurt this book in any serious way.