It's taken until January 22, 2012, but I finally managed to put together my book stats from 2011. Geek joy!
Doing book stats is one of my favorite things. It's always interesting to me to compare what I thought I read over the year to what I actually read. Often, I find out that my impressions of my reading are pretty different from the reality. But anyway, onward!
The Basics
109 books read
34,127 pages read
656 pages per week
93.5 pages per day
Longest Book: A Game of Thrones by George R. R. Martin – 788 pages
Honorable Mention: The Emperor of All Maladies by Siddhartha Mukherjee – 608 pages
Shortest Book: Scenes from an Impending Marriage by Adrian Tomine – 56 pages
Most Common Book Length: 352 pages (9), 320 pages (9), 416 pages (8)
Oldest Book: House of Mirth by Edith Wharton (1905)
Books Published in 2011: 47/109 (43 percent)
Books by Genre
In the past, I've broken this out with more specific genres, but I'm in the mood to keep things simple. Of the 109 books I read, 39 were fiction and 70 were nonfiction.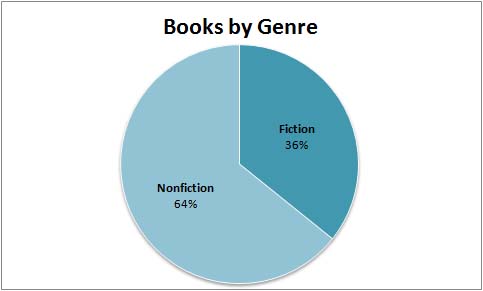 Books by Acquisition Type
This is always one of my favorite charts. I always set a goal to read more of my own books, rather than library books or review copies, but I rarely succeed. But, this year I was closer! Of the 109 books, 29 were my own, 30 were from the library, and 50 were review copies.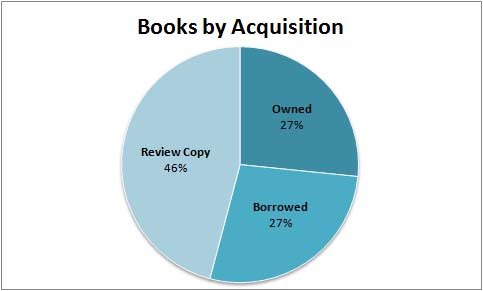 Books by Format
I also keep track of what format I read my books in. I don't really make much of an effort to read books in a particular format, but I like looking back to see how the year worked out.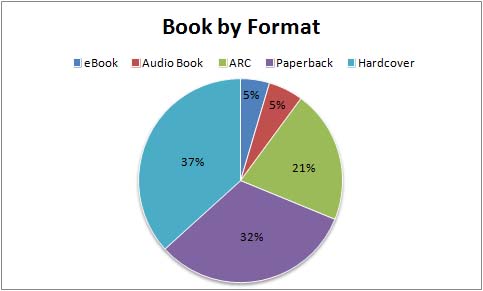 Author Gender
The last couple years, I've read far more male authors that female authors. I don't know what the reason for that is, but this year things have changed and my female author number is just slightly higher. Awesome!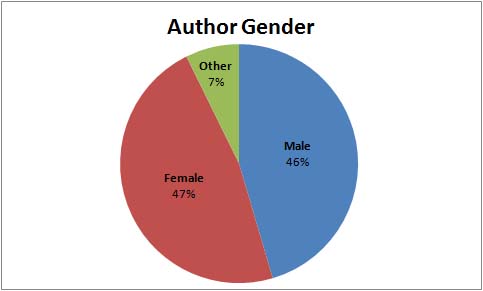 That's what I've got for book stats in 2011. Overall, I think it was a good year in reading and I'm glad I finally got the stats put together too look back.
And now, back to the really important activities for Sunday: reading and football. Happy Sunday everyone!