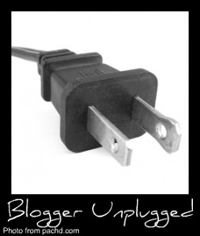 In my Sunday Salon post yesterday, I mentioned that I've had a particularly nutty couple of weeks at work and looking at the week ahead, both personally and professionally, I don't see the workload lightening up.
Rather than beat myself up and try to write posts for this week, I decided to take a little blog posting hiatus until sometime next week. I'm hoping a week with fewer online obligations will give me some space to recharge.
But, before I do that, Lu (Regular Rumination) tagged me in one of those 11 questions memes. She asked some really good questions, so I'm going to answer them quick before I hop away from the blog this week.
1. Tell us one thing that we don't know about you!
My first real job, when I was 16 years old, was working at Target. I worked there through high school and on breaks when I was in college. I think I finally quit for good when I was 23. That also makes Target the place I've worked the longest.
2. Is there one book you're always recommending? Which book is it and why.
I recommend The Spirit Catches You and You Fall Down by Anne Fadiman all the time. It was one of those books that I think exemplifies what really amazing narrative nonfiction can do, and Fadiman does a remarkable job telling a tragic story without blaming any of the people in it.
3. Have you convinced anyone to read said book? Did they like it?
Yes! Jeanne (Necromancy Never Pays) read the book and liked it! I think other bloggers have too, but I can't think of who off the top if my head.
4. What do you do besides read?
I'm working on doing a Couch to 5K program. I like to crochet. I loooove to watch really great, narrative television (the Boyfriend and I are watching The Wire right now). I'm also working on becoming a better cook.
5. Are you crafty?
A little bit. I crochet, and I'm learning to knit.
6. Who do you miss right now?
Lots of people! My sister, most of all, and my parents. Plus friends in different cities. The Boyfriend and I moved from Madison, WI in August, and I really miss the friends we made there.
7. What are you going to eat for dinner?
We already ate, nachos made with Tex-Mex crockpot chicken. It was pretty good.
8. What is the one book you've been dying to read but you haven't yet?
The Lifespan of a Fact by John D'Agata and Jim Fingal. It came in the mail last week, but I have to finish up some other reading before I can dive into it. But I cannot wait!
9. I need some new music recommendations! What have you been listening to lately?
This is embarrassing… the Glee soundtracks, and music from The Sing-Off. But I've also really been in love with Mat Kearney, Ingram Hill, Ingrid Michaelson and Sara Barellis lately. I have pretty pedestrian taste in music.
10. If you could go back to any time in your life and live through it all again, when would you return to?
This is a tough one! I went to London for three weeks in college for a class on Shakespeare; I'd love to do that trip over again.
11. What's one goal you have for this year?
I didn't really set any big goals for the year. One that I haven't started yet but that I'm excited about is to re-read all of the Harry Potter books.
And that's that! I'm not going to tag anyone for this. Like Jill (Fizzy Thoughts), I'm a chain letter killer… but so far that hasn't hurt me too much 🙂