When I first heard that there was going to be a documentary made about what it is like to work at the New York Times, I may have squealed. Loudly and repeatedly. Just maybe.
Although I've never wanted to work at the Times, that newspaper — for better or for worse — is the standard of journalism in the United States. During my first visit to New York for the Book Blogger Convention in 2010, I was one of those total dorks that took a photo in front of the New York Times building (well, Care took the photo, I just posed like a total fan girl).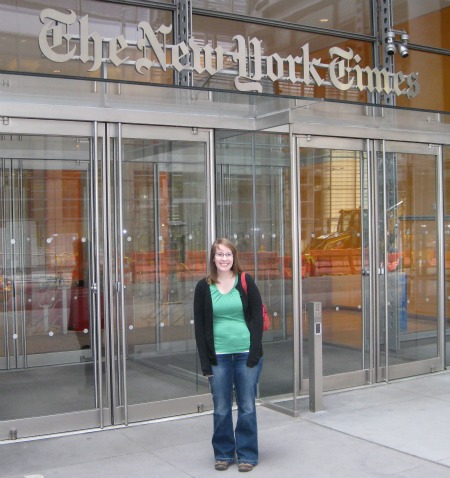 Anyway, Page One: Inside the New York Times is documentary and supplementary essay collection that looks at the world inside the newspaper. As a pair, I think the movie and book work well together. Although I'm very familiar with the rise and fall and reinvention of contemporary journalism (thanks, MA program), I think the movie does a nice job outlining the current conflict for a person who hasn't spent the last three years paying attention to the dramatic media landscape.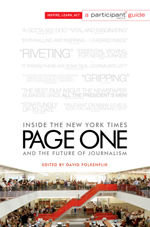 The movie centers on the NYT media desk, editor Bruce Headlam and reporters David Carr, Richard Pérez-Peña, Tim Arango, and Brian Stelter. They're a fun group to watch, and I especially loved getting this insider look at how "expert reporters" go about doing their job. (In one of the special features, David Carr admits that making antagonizing cold calls to sources freaks him out — I'm SO GLAD it's not just me!).
The conclusion of the documentary is one that I totally agree with: Good journalism isn't going to disappear, but the way we get news is changing (in some ways for the better, in some ways for the worse) and news organizations will need to address those changes in order to survive. I appreciated that the documentary isn't alarmist, but it certainly doesn't sugar coat the major problems news organizations face.
Page One, the book, is a collection of essays that work both as a supplement to the movie and on their own as a look at the state of contemporary journalism. I read the book before I saw the movie, so I can attest to the fact that it stands on its own as a book about the current state and challenges of journalism.
Like any essay collection, there are some that are better/more interesting than other (although that assessment is based a lot on what you look for in essays). My favorites were, predictably, those written by people within the Times, talking about their work and decision-making process during key news moments of the year. But overall, I think the collection has a nice balance of essays from inside and outside the Times to grab readers of different backgrounds.
One that I particuarly appreciated was "Beyond the Tyranny of the Recent" by Matt Thompson, a local news developer at NPR, where he points out the challenges to journalism in a sea of information and suggests some changes journalists can make to stand out from the noise. Part of it has to do with redefining what we think of as news and a new way of thinking about journalism:
In the future, whenever you encounter a news story, you should be presented with a straightforward pathway for acquiring the background information and context you need to process that story. You should also have the wherewithal to figure out how the fact of the story were acquired and verified. The story should tell you what it's missing, what we don't yet know. It should invite you to take part in following up and making it better. And it should give you the option of signing up for any updates or corrections to it.

In short, the future news story might look a lot like a Wikipedia entry.
That's really provocative and interesting, right? Anyway, enough gushing about both the book and movie. If you want a primer about contemporary journalism, I'd suggest renting the documentary and settling in for an evening to watch. If you're already familiar, or finished the movie and are looking for a little more, the book is an excellent companion that also stands on its own.
Updated to Add: I received a copy of this book from the publisher for review consideration. I rented a copy of the documentary via Netflix.