I've had two quite busy and stressful weeks at work, which has cut into the brain power I have for reading and blogging. I just haven't been able to write any reviews lately, and I've been struggling to get into some of the nonfiction I've got on my plate right now.
This week, Thursday was especially mentally and emotionally exhausting, so by the time I settled in with a book before bed I was just looking for something frothy and goofy. I've had Jen Lancaster's My Fair Lazy: A Culture-Up Manifesto out from the library for about a month, and it seemed like exactly what I needed.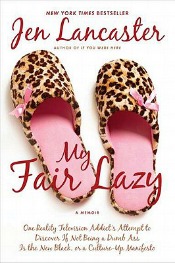 Unfortunately, I really, really didn't like this book… despite the many, many positive things friends and coworkers that have good taste in books have said about  Jen Lancaster, it did not work for me. I finished the book up this morning and couldn't help wondering what was wrong with me. What wasn't I getting about this author that everyone else seems to love?
I thought about my cranky reaction all day (hence this very late post), and I think I finally came up with my two big problems with My Fair Lazy that, combined, left me actively annoyed that I actually bothered to finish reading it. First, the stunt memoir part of the story was poorly executed. And second, I didn't think Jen Lancaster's persona was funny at all.
As you may know, I'm a bit of a super geek when it comes to the sub-genre of the stunt memoir. I've read a lot (really, a lot) of stunt memoirs, so I have deeply-held ideas about what makes them interesting and what makes them seem like, well, a pointless stunt. One of the most important aspects is to set up the premise of the book early, then get started working on it right away. The stunt also has to have something for the reader, a reason we care about the author going about whatever stunt they're planning.
My Fair Lazy fails pretty spectacularly on both accounts. While Lancaster does set up the idea of becoming more cultured early in the book, she doesn't really seem to get started doing anything about it until well over 100 pages into a 360 page book. Sure, she goes a play and visits a society hotel in New York, but those things happen more as a result of Lancaster procrastinating on writing her next book and going on a book tour… which is not what I really signed up to read about. And finished the book without ever getting the sense that I cared whether Lancaster became more cultured or that she was offering me any lessons I could apply to my own life (other than some general platitudes about "Live life to the fullest!" and "Try new things!")
To be fair, it could be that Lancaster didn't intend My Fair Lazy to be a stunt memoir, and I placed the wrong set of expectations on the book before I even started. But, the full subtitle — "One Reality Television Addict's Attempt to Discover If Not Being a Dumb Ass Is the New Black, or a Culture-Up Manifesto" — makes me think I'm not totally off-base… but that's open to debate.
Secondly, and probably more damning, is that I just didn't think the persona Lancaster adopts for the book was very funny. All of the reviews and in-person recommendations I've gotten to read Lancaster have talked about how hilarious she is… but I just didn't get it. I think I laughed out loud once in the entire book (at a joke about fois gras being meat butter). I think if her sense of humor had clicked more with me, I wouldn't have minded the fact that this isn't a very good stunt memoir. But when the book was both not funny and not well-executed, I got annoyed.
I read some reviews online after finishing the book, and it seems like I'm not the only person that was less-than-thrilled with this particular Lancaster memoir, suggesting that this is the worst of the several she's written. So I want to try again, sometime, with one of her other books, to see if maybe it was just the execution of this book that I disliked, not Jen Lancaster as an author. I'm leaning towards Bitter is the New Black, but I'm open to suggestions?
Have you ever been excited to read an author that let you down? Or, brought the wrong set of expectations to a book that caused disappointment? What are you reading this fine Sunday?