For some reason, I've always had this impression that all collections — essays, magazine writing, short stories, you name it — were all about the same. All of the entries would fall on a sort of bell curve — a few would be terrible and a few would be stellar, but most would fall somewhere between mediocre and pretty good. It didn't matter what the theme of the collection was or who was in charge of putting it together, it was just a natural part of a collection and how different pieces appeal to different readers.
What that assumption meant for me as a reader is that I had to read the whole collection in order to pick out the gems. It was almost a sort of treasure hunt, could I pick through the good entries to find the diamond in the rough? I didn't really mind the exercise; after all, you have to learn what isn't great in order to recognize the truly remarkable. But I also think this misconception about needing to dig through the average to find the remarkable made me hesitant to work through all of the collections I have on my shelves. In some ways, reading through things are that are merely good is a waste of time when there are so many great things to find.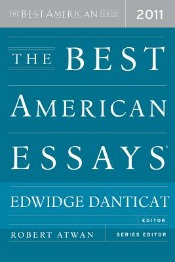 But after finishing the second book in my Essay a Day project, Best American Essays 2011, I've realized that I have been almost entirely wrong about what to expect from a collection like this one. Every piece that guest editor Edwidge Danticat chose for this collection was great, and I finished the last one feeling really, really sad that I will have to continue reading essays without her guidance.
I haven't finished writing up about each essay over on my Tumblr, but the notes I have about the few I'm still working on all seem to have a common refrain… this was awesome, loved this essay, I'm speechless. I don't think I could even pick a favorite from the book because they all managed to twist my heart or brain in a slightly different way. But, if I had to pick a few favorites (limited to those I can find online), I'd suggest checking out a few of these to see what I mean:
But if there's one thing that I love most about this collection, it's that it helped me think differently about what I, as a reader, should expect and deserve when reading through collections. Finding a great collection of whatever you like to read is much more about finding a writer or editor that shares your sensibilities about what makes that form great to read.
I love essays that have a punchy or exciting first paragraph, that connect seemingly disparate ideas or stories, that illuminate a part of the world I will never experience, or that use words and phrases and structure in a surprising way. Each of the essays in Best American Essays 2011 did one or more of those things, which made it a great pick for me as a reader and a great collection I can recommend to others who I hope I can convince to see essays the way that I do.
As a quick last note, things with the Essay a Day project fell off the wagon a little bit in February. I'm about seven essays behind where I should be, but I'm feeling optimistic about getting caught up. I finished Best American Essays 2011 yesterday morning, but I haven't decided what I'm going to dive into next. Probably a Christopher Hitchens collection I have out from the library, Arguably, but I may also try a Marjorie Williams collection I've been holding on to, The Woman at the Washington Zoo. Thoughts?