I spent most of this week taking a break from my normal reading habits and indulging in some retro reading, the kinds of books I used to devour but have since almost entirely abandoned.
When I was in middle school and high school, I read almost exclusively mystery and epic fantasy. It stemmed from my elementary school reading habit of picking out the longest books I could find in the children's and young adult sections of the library, regardless of the subject. We only went to the library every couple of weeks, and I read voraciously as a kid, so I had to pick out really, really long books to tide me over between visits.
At my local library, those really, really long books tended to be fantasy and, as I branched out, mystery. Later, I also added some science fiction (Michael Crichton, that sort of thing). Fantasy and mystery also had many series to choose from, and I liked finding books in a series because it made picking new books easier — instead of having to peruse the shelves and make guesses, I just picked the next couple books in line and was good to go.
I can't remember when I stopped reading those genres so voraciously, but at some point I stopped reading mystery and fantasy almost entirely and shifted my reading to what you see most here on the blog, nonfiction and literary fiction. This week I had a major urge to go back to those books I used to love for a little while and see what I thought.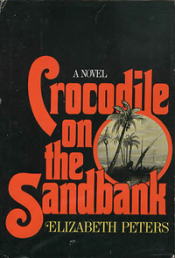 My first retro reading indulgence was Crocodile on the Sandbank, the first book in Elizabeth Peter's Amelia Peabody series of mysteries set in Egypt centered around an intrepid female archaeologist at the turn of the century. I've never actually read the first book in this series — when I was a kid, I got started somewhere in the middle, and when I finally got to the end I wasn't in the mood to go back to the beginning — so it was fun to visit Amelia's origin for the first time. Crocodile on the Sandbank was just as funny and sly as I remember the series being. It was so fun. I can't wait to pick up the second, The Curse of the Pharaohs.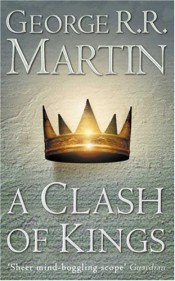 I spent almost all of the rest of this week indulging in some fantasy with A Clash of Kings, the second book in George R.R. Martin's A Song of Ice and Fire series. I read the first book, A Game of Thrones, last August, but didn't immediately start the second because I want to space them out. I finally picked up A Clash of Kings because Boyfriend and I just finished watching the first season of Game of Thrones on DVD and I wanted more!
I don't plan on writing a full review of A Clash of Kings because I don't think it would be especially interesting. The book is the second in a series, and it continues all of the things that A Game of Thrones did really well (which I reviewed last August), in some cases even better than the first. The huge battle sequence at the end of A Clash of Kings is, honestly, one of the best battle scenes I've ever read in a book. The book is almost worth reading for those chapters alone. I loved the book, and plan on reading the next, A Storm of Swords, sometime soon too.
But for now, I'm back to my "regularly scheduled programming" when it comes to books for this week. I just started Jessica Speart's Winged Obsession, a book about the world's most notorious butterfly smuggler, which is a delightful nonfiction book so far. And after that… I'm not quite sure.
What books would you consider retro reads? Any genres or subjects you use to love that you've since abandoned?