Although I am off at Book Expo America this week, I still wanted to participate in a very cool event — Armchair BEA — which was organized by a group of bloggers in 2010 to connect book bloggers aren't able to make the trip to New York City. Throughout this week I'll be posting on some of the daily topics to, hopefully, supplement post I'm actually writing from BEA. I won't have much time to respond to comments, but I'm hoping to get caught up when I get back.
Today is all about introductions.
Please tell us a little bit about yourself: Who are you? How long have you been blogging? Why did you get into blogging?
My name is Kim, and I've been blogging for just over four years. I started blogging in May 2008 right as I was getting ready to graduate from college. I thought having a blog would give me a space to talk about books with other readers  after I wouldn't get to talk about them in school anymore.
What are you currently reading, or what is your favorite book you have read so far in 2012?
My favorite nonfiction read so far this year is Wild by Cheryl Strayed, and my favorite fiction read is a tie between The Monsters of Templeton by Lauren Groff and The Sparrow by Mary Doria Russell.
Tell us one non-book-related thing that everyone reading your blog may not know about you.
People who are regular blog readers know that I have a cat, Hannah. But new readers from Armchair BEA might not know that, and I am always looking for excuses to post pictures of her on my blog! This is my favorite picture of her, throwing herself at my boyfriend, Nate.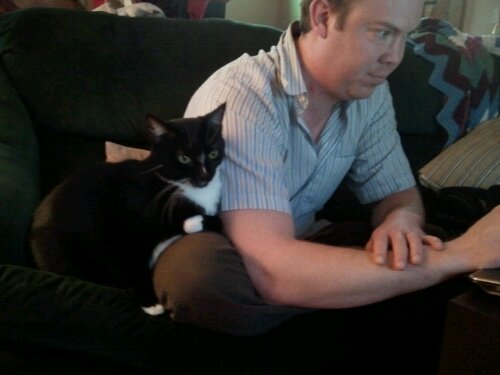 What literary location would you most like to visit? Why?
I wish there was a way to go to Hogwarts. I've been to the castle in England where some of the movie is filmed, which was totally awesome. But I'd like to go to the real Hogwarts.
Have your reading tastes changed since you started blogging? How?
This one is hard for me because I don't remember what it's like to be a reader without having a blog (or, without being a student that had a lot of required reading). I do know that my reading has started to skew much more towards new releases than it ever did when I was a kid or a student.