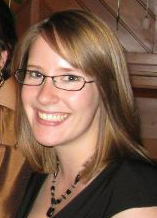 Hello to everyone stopping by from Book Expo America or Armchair BEA. If all is going well, when this post goes up I'll be on my way to the airport for a week hanging out with fellow readers in New York City. I'm so excited!
(And, because what we really all care about is books, I want to tell you that I have two packed for my travels: Rebecca by Daphne du Maurier and And the Heart Says Whatever by Emily Gould.)
This is a sticky post — for new content (some from Armchair BEA and hopefully from BEA itself) just scroll down to the next post. If you would like to get a hold of my at BEA, the best way is to poke me on Twitter — @kimthedork. I also hope to be doing short updates on my Tumblr, A Little Bit of Dorkiness.
About Sophisticated Dorkiness
Sadly, I'm not really the South Park character on my business card and blog header. I'm just a regular girl blogging about books. I've been writing here at Sophisticated Dorkiness for just over four years. The biggest news around the blog recently is that I was one of four winners of the first Independent Book Blogger Awards. That's awesome!
By day I work as a community newspaper editor in rural Minnesota and by night I'm an avid reader, blogger, and freelance writer. I primarily read and review nonfiction, narrative nonfiction, and literary fiction, although I delve into other genres like YA fiction and comic books when the mood strikes — check out my Review Policy for more information.
That's all I've got. Can't wait to be in NYC, so if you see me, say "Hello!"