Finally, a recap of Book Expo America! Although BEA is about a lot more than free books (believe me, it really is), as I thought about putting together this post I decided it would be fun to recap the week by talking about the books I grabbed and how the tied to some of my favorite moments of the conference.
First, here are the books that made it all the way from New York to rural Minnesota, arranged roughly by publication date (except Fooling Houdini, which I already had at home but met the author at BEA and wanted to include).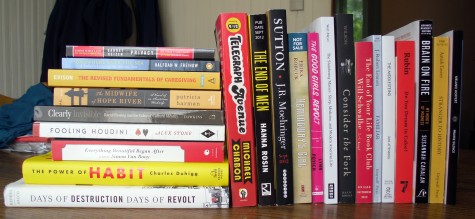 In total, I think I added 22 books to my TBR pile, which is fewer than the 40-ish books I shipped home last year. But anyway, on to BEA!
Saturday/Sunday
I started my day with a 4:45 a.m. so I could be to the airport in time for a 7:30 a.m. flight. After a short flight, three hour layover in Cincinnati (the world's most boring airport), and another short flight, I arrived in New York City in time to meet my roommate Florinda (The 3R's Blog) at the airport and catch a cab to our first hotel.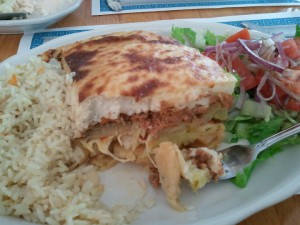 That night, we met Teresa (Shelf Love) for dinner and a play — Sleep No More at the McKittrick Hotel. Dinner was traditional Greek food (pictured at right – so good!). 
Sleep No More is probably better described as an "immersive theatre experience" than a traditional play. After donning masks, attendees are left to roam around the four-story theater and explore while the actors perform a pretty strange version of Macbeth. I think it's best to think of the performance as a sort of Choose Your Own Adventure story — you can become as involved with the performance as you're comfortable with, and no person who does in will have the same experience as another person. It's hard to explain, but Teresa's recap of her first visit (she's been three times now!) can help explain better.
The plan for Sunday was to spend a day being tourist-y, with a trip to the Statue of Liberty/Ellis Island, then dinner at a traditional Italian restaurant with Florinda, Teresa, and Leslie (Regular Rumination). It was an awesome day, but I didn't take many photos other than a few goofy ones with Leslie.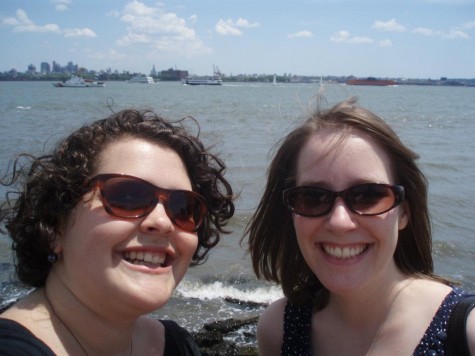 We had some time in the afternoon before dinner, so the four of us make a quick stop at The Strand… since that's what you do if you're nearby and have time to spare. I only bought two books — a collection of short stories by Shirley Jackson and The Lost Books of The Odyssey by Zachary Mason. I don't have any photos from dinner, but it was delicious. Plus, we were joined by Karen (Sassymonkey Reads) and Memory (Stella Matutina), which was awesome.
Monday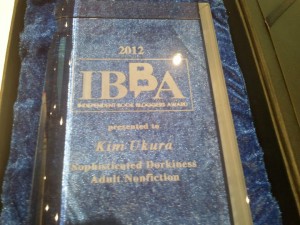 I've already shared my extensive thoughts on Monday's big event, BEA Bloggers, so I won't bother going through that again very much. One of the highlights of the day was receiving my IBBA award (right) — a beautiful glass book with my name and blog on it. It's very classy.
It was also great to meet the other winners (below) and spend time talking with the organizers. We were introduced by Tina Jordan (below, far right), vice president of the Association of American Publishers.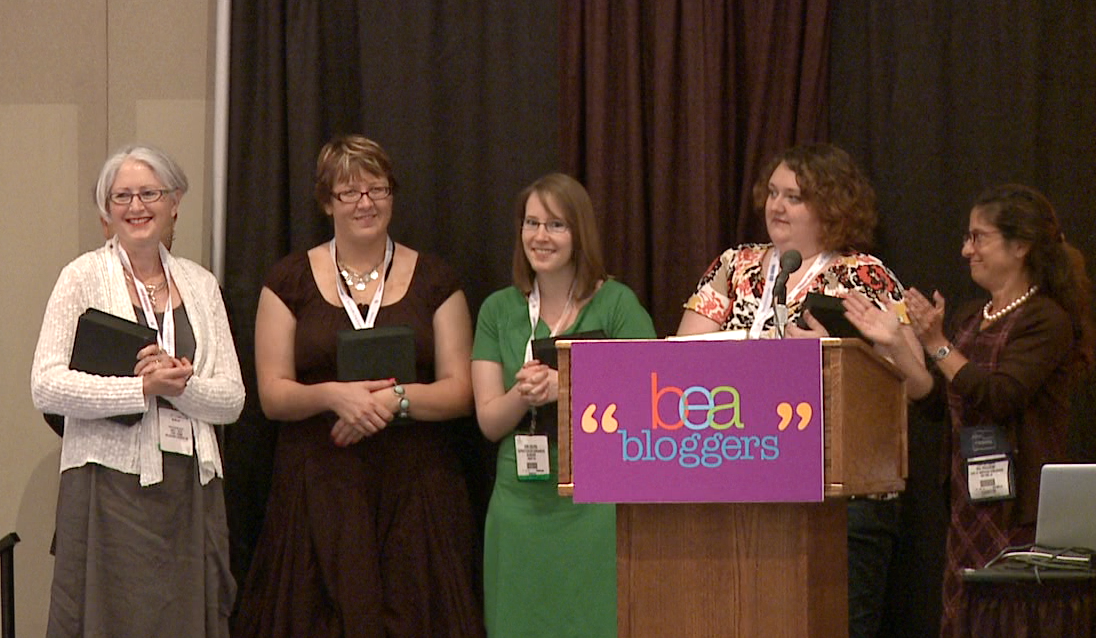 And one of the special perks of winning was an awesome lunch at Spice Market, an "Asian fusion" restaurant in the Meat Packing District. It was so delicious, and nice to get away from all the hubub of BEA Bloggers for some time to just talk with people. I brought home three books from the BEA Bloggers swag bag:
Then Came You by Jennifer Weiner (July 2012) — I gave this one to my sister for her birthday.
The Passage by Justin Cronin — My mom borrowed this one, but I'm planning to read it over my 4th of July vacation.
The End of Your Life Book Club by Will Schwalbe (October 2012) — A mother and son begin a begin a book club so they will have something to talk about in the hospital waiting room as the mother undergoes chemotherapy. Sounds sad, but also lovely.
I skipped out on the closing speech by Jenny Lawson, aka "The Bloggess," to head to the BEA Editor's Buzz panel. During the panel, five editors give little pitches for their books that will likely big buzzes this fall. Only one was nonfiction, Brain on Fire by Susannah Cahalan (November 2012), which was only one of two I managed to grab in the melee that is the galley grab table after the panel. (The other book I grabbed, but then gave to Florinda, was the awesome-sounding Panorama City by Antoine Wilson (September 2012)).
The Monday night blogger party I went to was hosted by HarperCollins. As a whole, I think this publisher and most of their imprints do a fabulous job working with bloggers, and it's always such a fun time to check in with the publicists and authors who come to their event. I think I only brought home two of the books in their swag bag, The Flight of Gemma Hardy by Margot Livesey (which my sister stole from me as a birthday present) and The Midwife of Hope River by Patricia Harman (August 2012).
The highlight of the evening, however, was meeting Alex Stone, author of Fooling Houdini (June 2012), who did some awesome card tricks. I might have a little crush on him (just a little one, I swear).
Tuesday
I had a rather leisurely Tuesday morning, since I didn't have to be anywhere right away and the main expo  hall at BEA doesn't open until 9:00. I walked from our hotel over to Javits and made it in time to chat with Sheila (Book Journey) and take in the view of BEA registration before heading into the exhibit hall.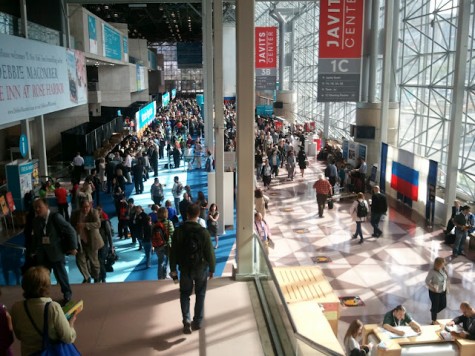 Because I'm not really into YA or the buzzy fiction titles, I didn't get mobbed in any crowds, but I did grab a galley of Privacy by Garret Keizer (August 2012) and stop by two author signings, Everything Beautiful Began After by Simon Van Booy (a book for me!) and One Breath Away by Heather Gudenkauf (June 2012) (another book for my sister!).
My timeline for the rest of the day is a little bit fuzzy, so here are the rest of Tuesday's highlights (in no particular order):
Talking about upcoming fall books from PublicAffairs with the imprints Marketing Manager, Lindsay Fradkoff. I didn't grab any titles except The Good Girls Revolt by Lynn Povich (September 2012) during an author signing, but PublicAffairs has some great books coming up that I'm excited to get in the mail soon.
Meeting up with author and Twitter friend Kevin Smokler (@Weegee) to wander the floor and chat. We ran into a bunch of pretty famous bookish people while we were walking around, but now I can't remember who they were!
Meeting up with Marc (Maphead's Book Blog) and Amy (Amy Reads) to peruse nonfiction publishers. We spent a lot of time at the imprints of Perseus Books where I grabbed Days of Destruction, Days of Revolt by Chris Hedges and Joe Sacco (June 2012) and Consider the Fork by Bee Wilson (October 2012). We also went to an author signing for Clearly Visible by Marcia Alesan Dawkins (August 2012). Around lunch, Amy had to leave, so Marc and I grabbed sandwiches at the insanely expensive Javits cafeteria. We also bumped into Alita (Alita Reads) while walking the floor, which was fun too!
I also grabbed a copy of The Middlesteins by Jami Attenberg (October 2012), but I can't remember where or when!
Tuesday evening was a get together with fellow BookRiot contributors followed by dessert from a fancy New York City bakery with Florinda, Teresa and Memory. We also ran into another group of book bloggers while there, which was so great!
Wednesday
Wednesday morning was a fancy breakfast at Random House. They had seriously the best, most decadent donuts I have ever eaten. I'm still sad I didn't take a photo. Two authors (both nonfiction authors) gave short speeches: Nate Berkus and Charles Duhigg (author of The Power of Habit).
Florinda and I got to Javits around 9:45, and I spent my morning doing a quick tour of some of my favorite small publishers. I was in charge of the Book Riot Twitter feed for the morning, so I was trying to tweet exciting books from each publisher. These are the books I ended up grabbing throughout my tour:
From Graywolf Press: Familiar by J. Robert Lennon (October 2012) and Stranger to History by Aatish Taseer (November 2012).
From House of Anansi: Somewhere Over the Sea by Halfdan W. Ferihow (June 2012)
From the University of Minnesota Press: The Slumbering Masses by Matthew J. Wolf-Meyer (October 2012)
From Seven Stories Press: Do You Dream in Color? by Laurie Rubin (October 2012)
From Bancroft Beacon Press: Prairie Silence by Melanie Hoffert (January 2013)
Midway through my tour, Amy and I bumped into each other, so we meandered a bit. During that time, I also got a copy of Revised Fundamentals of Caregiving by Jonathan Evison (August 2012).
Before Florinda and I left for the day, we both ended up at one of the BEA Education sessions, "The Journey of a Book: From Writer to Reader." I already did a recap of this session over at Book Riot, so I hope you'll check it out!
I spent the rest of Wednesday away from BEA, first meeting Leslie for lunch down by her office, then heading to an evening cocktail party and Penguin's Bird Bash. I think the Bird Bash was one of my favorite events, even if I did have two awkward author encounters with authors — one because I said made what the author must have considered an unflattering comparison about his book, and one because I word vomited all over Lev Grossman telling him how much I loved The Magician King. Yikes.
I brought home two books from the Bird Bash — Hemingway's Girl by Erika Robuck (September 2012) from the swag bag, and Murder in Peking by Paul French, which a Pengiun vice president/director of marketing gave me after we started chatting about bloggers and blogging. It was seriously the nicest thing ever.
Thursday
Thursday was a pretty low-key day, which was nice for my last day in NYC. Florinda and I went to the Book and Author Breakfast, where there were copies of Telegraph Avenue by Michael Chabon (September 2012), Sutton by J.R. Moehringer (September 2012) and Thank You Notes 2 by Jimmy Fallon (My sister stole this one from me, claiming it as a birthday present. She spent most of an afternoon running errands together reading it aloud to me, so I feel like I've read it anyway 🙂 )
For me, the highlight of the breakfast was J.R. Moehringer's speech. He was the last of the authors to speak, so he got up to the podium after Jimmy Fallon, Kirstie Alley, Michael Chabon and Zadie Smith. That's an impossible lineup to follow, but Moehringer absolutely nailed his speech. He was funny, self-deprecating, natural and entertaining — I felt like he did much, much better on his speech than anyone expected. It was great.
After the breakfast, Florinda and I went back up to the expo floor one last time, mostly to make a donation of books we got in swag bags but didn't want to bring home, and also to grab any last-minute titles. I managed to snag my other most anticipated book of BEA, The End of Men by Hannah Rosin (September 2012).
Then, it was time to head back to our hotel to pack, check out, and then meed a group of bloggers for a final lunch. Although she couldn't stay long, it was awesome to see Jenny (Jenny's Books) again, then eat with Amy and Trish (Hey Lady!) at a cute little place called Penelope. It was a perfect last meal in New York.
To kill time before we needed to go to the airport, Florinda and I also made a quick stop at the New York Public Library and sat around in Bryant Park. I finally got to take the photo I have wanted to take in New York for three consecutive years: a NYPL lion!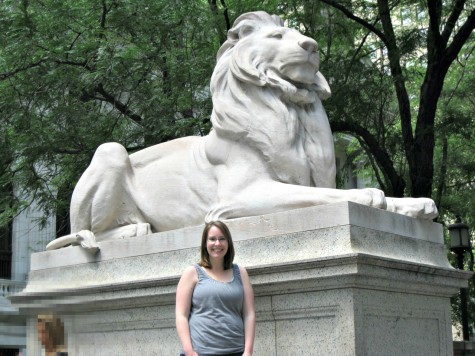 And that, in just over 2,000 words, was Book Expo 2012.