Happy Sunday, everyone!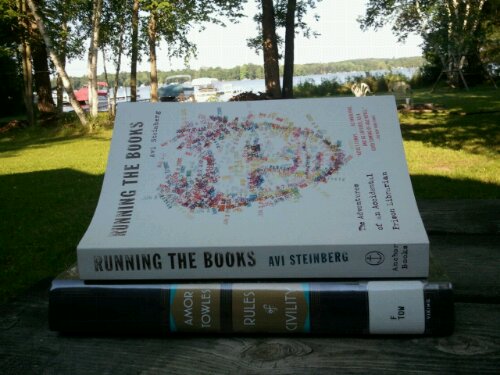 This post is coming to you live from my family's cabin in northern Wisconsin. It's my first weekend at the lake this summer, and I am loving it. We have spotty cell phone reception, at best, so I'm not even sure if this is going to post… I guess we'll see!
Picking books for the lake is a pleasurable challenge. I don't like to bring books that I'm going to feel obligated to review since, frankly, I sometimes read after drinking a margarita or two. And I don't normally like difficult books, since I end up putting them down for a swim or a nap pretty frequently.
This weekend was especially difficult because I started the weekend without a read-in-progress. Last Thursday night I finished reading the stylish and beautiful Everything Beautiful Began After by Simon Van Booy, but didn't have time to start another book before I left right after work on Friday. I was totally adrift, trying to pick a variety of books to fit my mood without knowing much about any of them… quite the dilemma!
I ended up packing three options: Running the Books by Avi Steinberg, Anna Karenina by Leo Tolstoy (because I'm sort of in love with the trailer for the new movie), and Rules of Civility by Amor Towles. I whippes through Rules of Civility yesterday, and I'm hoping to make progress on Running the Books before my drive home.
With that, I'm off to enjoy the sun!
What are you favorite books to read by the lake?