BAND — Bloggers' Alliance of Nonfiction Devotees — is a group organized to promote the joy of reading nonfiction. We are "advocates for nonfiction as a non-chore," and we want you to join us. Each month, a member of BAND hosts a discussion on their blog related to nonfiction. 
Our July topic for the BAND comes from a new host, Marilyn (Me, You and Books). Marilyn asks,
When is an author's subjective response to a subject not a bias but a legitimate perspective? What nonfiction have you read where an author's feelings enhance your understanding?
I think this is a fascinating topic, especially as more and more authors of new nonfiction have started to play more with incorporating their own voices and stories into their books. These types of nonfiction accounts aren't really memoirs, even though the author will often write in the first person and incorporate their experience of reporting and researching a book into the account.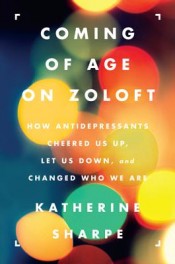 But in those cases, authors will often still try to remain objective as they write. Or, the topics aren't controversial enough that the author's bias really makes a difference. It took me awhile to finally come up with a book to talk about that really explores the idea Marilyn is touching on — Coming of Age on Zoloft: How Antidepressants Cheered Us Up, Let Us Down, and Changed Who We Are by Katherine Sharpe.
Katherine Sharpe is a journalist and blogger in New York who spent much of her college career and early adulthood taking Zoloft — an antidepressant that is among the number of drugs being increasingly subscribed to young people. In Coming of Age on Zoloft, Sharpe explores what it is like to grow up taking an antidepressant, and the corresponding struggle many young people face finding identity when they've spent their formative years being medicated.
Sharpe's experience with antidepressants, including her diagnosis and use of Zoloft, experience with other forms of non-drug therapy, and eventual decision to wean herself off antidepressants, is the backbone of what holds this book together and what gives the book it's focus on the use of antidepressants among young people. It also gives Sharpe a real empathy for the other young people she interviews and quotes extensively. Without her experience — and her personal bias about the proper use of antidepressants — the book wouldn't be nearly as effective or engaging.
That said, I also think the book works because Sharpe is very fair in her assessments. The book does an excellent job of showing how our understanding of depression is intricately tied to the development of the drugs we use to treat the disease, as well as why there are economic and medical reasons for the increased prescription of antidepressants for young people. It's frustrating to read, and although it's clear Sharpe has opinions on these issues, it never feels as if she's left out arguments for the sake of making her own.
Although I don't have any personal experience with antidepressants, I was really into this book. Everyone has gone through this experience of trying to figure themselves out, so it's easy to understand the big questions about antidepressants and identity that Sharpe and the other young people in this book are struggling with. America's medical culture is a big and complicated topic, but Sharpe uses her own experience to effectively to wrangle the topic into a clear and specific story that many readers will find ways to connect with.
Disclosure: I received a copy of this book from the publisher for review consideration.