From Kim: This is a guest post from my good friend Erin, a science writer, cat lover, and triathlete who lives in Madison. Erin is the kind of person who never does anything half-heartedly or halfway. For example, over a visit on Thanksgiving, she and I managed to watch two seasons of Downtown Abbey in two days. As it turns out, her reading is sometimes similarly single-minded. I hope you enjoy this story as much as I did!
A friend of mine tried to help me swim laps more effectively by teaching me a flip turn. She successfully got me to execute the turn (and the flip), but I haven't gotten effective yet. I get disoriented while I'm upside-down, so while I come up in the right position to continue, I am dizzy, and there is water up my nose.
That is how I felt in my brain after reading the entire Amelia Peabody series in 8 weeks.
Kim started it. She wrote a post in which she mentioned the series, and it sounded perfect. I was burned out on the genres I usually love and didn't know how to find others I might like. I like adventure and epic-ness and happy endings. No, I am not going to finish the Game of Thrones series.
Plus, there were *nineteen* Peabody books. That should hold me for a while, I thought.
HA.
The morning I read that post I dispatched myself to the library.
They didn't have the first book. Or the second. Or the third. They had the ninth book, and the 10th, and the 12th, 13th, and 14th. And some others.
I checked out books 9-14, minus 11.
My cat, Captain Morgan, assisted me with reading. He's helpful that way.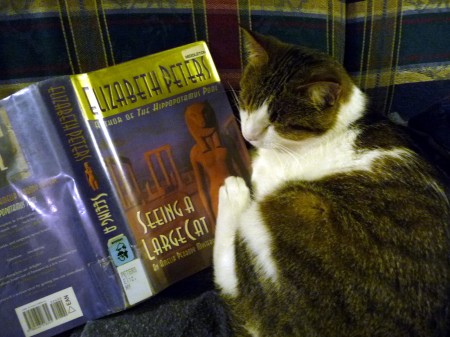 I don't even know at what point it happened, but suddenly it was less a leisure time activity and more a mission. Read. All. The. Books. Right now.
The books have really similar titles. I made a spreadsheet to know what order they were in. The titles had indicator symbols next to them showing which I had read, which I had checked out but not read, and which were neither read nor checked out. It also had a little summary line with a (usually plot-uninformative in retrospect) takeaway thought from each book ("Emerson has to give Ramses The Talk and it's hilarious").
I didn't really feel that satisfied "Finished a book!" feeling I usually get when I finished each book. I got that feeling I get when I'm done with part of a bike ride. Five miles done! Fifteen more to go.
I got really critical about the characters. And the dialog. Peters uses the same description for Emerson in every book at least once. I tried to figure out whether the characters' lack of significant evolution over the course of thirty book-years was pleasing (consistency makes delicious brain candy!) or annoying (unrealistic and lacking dramatic interest!).
The steady consistency in style started to seem weird. The characters made a big deal about how the world was changing but the essentials of the books stayed the same. I don't think I would have noticed if I hadn't read them so close together.
The mysteries began to bore me. I wondered why the characters didn't seem to be learning as the book-years went by. And anyway, they had just solved two *other* mysteries YESTERDAY.
And then I just… ran out of book. I didn't feel accomplished or satisfied when I finished: I felt confused and slightly stunned. I didn't know what to read next, or even what to do. I had gotten used to not having to make free-time-related decisions beyond "read or train?"
[From Kim: At the time of her reading, Erin was training for a triathalon. I told you she didn't do anything halfway.]
And all those Egyptian jewelry descriptions had made me irresistably attracted to turquoise beads.
As it happened, the next book I read was The Long Earth, by Terry Pratchett and Stephen Baxter. I've been reading Terry Pratchett's books for sixteen years, so it's pretty much the complete opposite experience.
Have you ever tried to Read All The Books Right Now? What series or authors have you downed indiscriminately or to the point of ruining them for a little while?