We're still Internet-less at our new house, so this post is coming to you from my office, which is abandoned for Labor Day. I need to get ready for an online fantasy football draft tonight and catch up on a couple of projects, but also wanted to use the quiet to post a quick update. This picture, taken from my reading chair this morning, might give you a sense of where we're at with getting organized in our new house. It's not pretty (except for Hannah — she's still adorable)…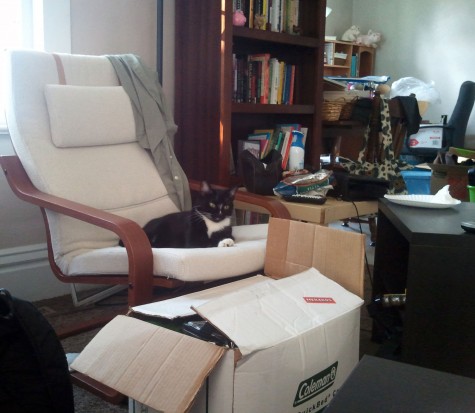 But, I think after I get my new bookshelf (which will sit near my desk at the back right of the photo) things will start to look a bit more put together — those books really need a home, otherwise they just get in the way.
Speaking of books, despite all of the upheaval in August, I still managed to finish nine pretty excellent books:
Winters, Ben: The Last Policeman (fiction/audiobook)
Straub, Emma: Laura Lamont's Life in Pictures (fiction)
Flynn, Gillian: Gone Girl (fiction)
Nunberg, Geoffrey: Ascent of the A-Word (nonfiction)
Povich, Lynn: The Good Girls Revolt (memoir)
Brooks, Joanna: The Book of Mormon Girl (memoir)
Gillizza, Chris: The Gospel According to The Fix (nonfiction)
Rosin, Hanna: The End of Men (nonfiction)
Heilemann, John and Halperin, Mark: Game Change (nonfiction/audiobook)
For those counting (mostly me), that puts me at 82 books read for the year. Frankly, that's an astounding number. I'm not sure I can pick a favorite from August, since I liked most of them pretty equally. I didn't have any mind-blowing reads, but I'm glad that I read each of them — although many for quite different reasons.
I haven't thought much about what I want to read in September, but off the top of my head I can think of at least a few books I hope to get to this month:
Other than that, I'm pretty open to getting caught up on books I've missed this year. At the moment, I'm slowly making my way through Everybody Was So Young: Gerald and Sara Murphy: A Lost Generation Love Story by Amanda Vaill, a truly lovely look at two American expatriates who helped anchor that movement in France between World Wars I and II.
What are you reading this fine Labor Day?
Disclosure: I received some of the books mentioned in this post for review consideration.