Today I'm scheduled to put up a post as part of the A More Diverse Universe blog tour, a project hosted by Aarti of BookLust to celebrate speculative fiction (science fiction and fantasy, for example) written by people of color.
I originally intended to write a review about The Enchantress of Florence by Salman Rushdie, but after forcing my way through 200 pages this week I decided I wasn't enjoying the book enough to continue. The Enchantress of Florence is a historical/magical story about a European man and his visit to the Mughal emperor Akbar's court. It's a bit of a tale of two cities, moving between Akbar's city and Renaissance Florence, switching narrators and story lines frequently. I just couldn't follow what was happening and ended up feeling frustrated by the narrative.
So instead of spending time reading and writing a book I wasn't enjoying, I decided to abandon The Enchantress of Florence and look through the other posts for the tour and find some books I might enjoy better. After perusing this weeks posts, I've added these books to my TBR pile: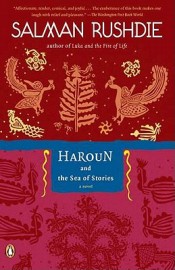 Aths' description of Haroun and the Sea of Stories just made it sound so delightful, I wish I'd picked this book instead. She writes:
Haroun and the Sea of Stories felt like a whiff of lively breeze. Reading this book made me remember the joy of reading magical books like Harry Potter and The Night Circus. While not as long or as atmospheric, Haroun and the Sea of Stories deserves its own place on that shelf of fascinating fantasy books. Although the fantasy in this book does have symbolic meanings and a few "moral of the stories", one could read this book for pure pleasure and nothing more.
Iris' review of the book also mentioned some of the political themes and the book's defense of both storytelling and democracy, which I think sounds awesome:
If you look beyond this defense of storytelling, it isn't that difficult to read Haroun and the Sea of Stories as a defense of democracy, and a condemning of totalitarianism in any form. The war between the Gup and the Chup is defined in this manner, with the Gup's talking and long conclaves in which they set all their arguments out, functioning as a stand-in for a society in which everyone has a voice and a means of portraying his opinions; the Chup, on the other hand, in having to keep silent, give up their right of speech and thus their right of opinion, which in the end leaves them divided instead of united.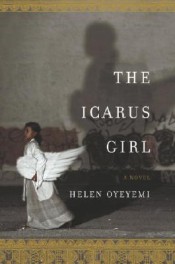 Although Trish only gave The Icarus Girl 3.5 out of 5 stars in her review, some of her descriptions of the book were enough to make me intrigued about this one. I've been looking for some darker books to read this fall, and this one might fit the bill:
But for me the real star of The Icarus Girl is the atmosphere that Oyeyemi sets for the reader. The mood of the novel is dark and dream-like with haunting imagery and a constant unsettling. Even at when I first started reading the book and was questioning whether this was truly a speculative fiction novel, I could feel the atmosphere settle upon me like a blanket.
Another review that intrigued me was Christy's — I thought this paragraph about one of the challenges of the book sounded intriguing:
The story gives an interesting glimpse into the life of a multicultural child. Jess thinks the Nigerians put incredible effort into some of their foods, grinding and drying and frying and drying. Her relatives think her father is unskilled at peeling cassava. Discipline is a bit of an issue. At one point Jess' father says he's handling a discipline issue and her mother says, "You weren't though! If that had been my father 'handling that,' she would've been flat on the floor with a few teeth missing!" The parents, like most parents I suspect, wonder whether they are spoiling her or being too lenient but with the added complication of different backgrounds. "And now, now you're implying my father's some kind of savage! It's just… it's just DISCIPLINE! Maybe you just don't understand that! You're turning this into some kind of… some kind of European versus African thing that's all in my mind…"
More Octavia Butler
I almost decided to read an Octavia Butler book for this tour, but ended up switching a little bit at the last minute (a move I regretted while I was dragging myself through The Enchantress of Florence). There were a bunch of great Octavia Butler books on the tour:
Anyway, I'm sorry for not finishing a book to suggest for the tour, but I hope I've highlighted some other excellent options to try!