Happy October! I can't believe that the year is 75 percent over already… it's flying by. Since I haven't done a bookish stats post in a long time (maybe as far back as the end of 2011), so I decided today would be as good a day as any to check in.
So far this year I've finished 89 books. As of this time last year, I'd read 80 books, so I'm still reading faster than I was last year, even if September was a little bit slow. Those 80 books add up to 27,979 pages and about 88 hours in audio books. That's a lot of reading!
Books by Genre
In 2011, I read quite a bit more nonfiction than fiction. So far this year I'm pretty much even between fiction and nonfiction, which is interesting — 39 fiction and 40 nonfiction. I think the nonfiction number will go up by the end of the year, since I have a number of nonfiction review copies I want to finish.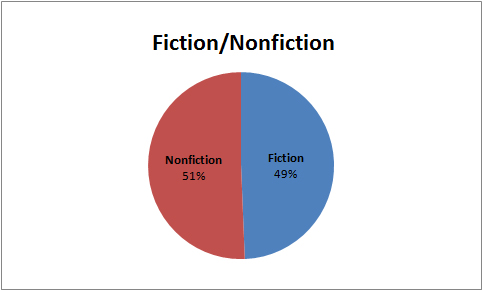 Books by Source
Of all the things I keep track of, where books come from is the important one because I try to balance out review copies, personal books and library books. As the chart shows, I'm doing a pretty good job — 33 of my own books, 20 borrowed books and 37 review copies. I want to read more of my own books through the end of the year, if I can, to even that out.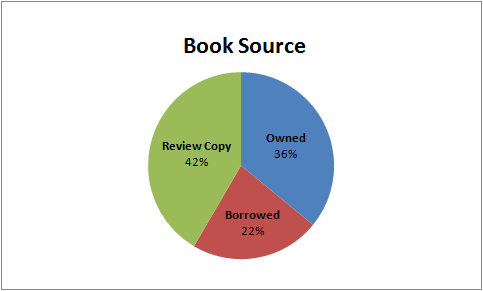 Books by Format
I don't make any effort to read books in a certain format, but I always find this statistic interesting. I wish I read more ebooks and audio books, but I'm usually happier picking up a paperback.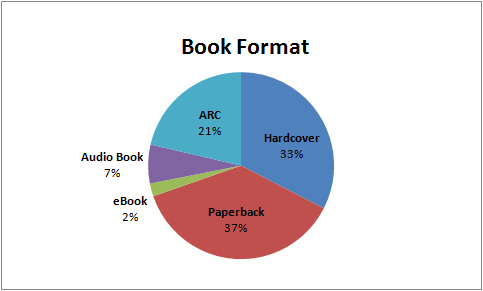 So there you have it – a look at my reading so far in 2012. For the rest of the year, I hope I can finish several more of my own books and finish a few more of my audio books. What books are you hoping to read in the last few months of the year?