Happy Sunday! This week was one of my favorite bookish events of the year — our university library book sale. The selection at this sale is always extensive — and with paperbacks at $.50 and hardcovers at $1 — it's hard not to leave without several books.
Here are the books I snagged (sorry for the crappy cell phone picture — I'm too lazy to pull out my good camera this morning):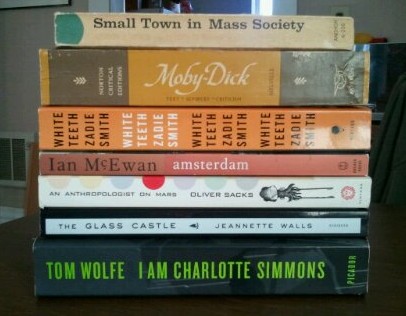 I loved to use book sales to pick up books by authors I want to read but haven't made the time for — Zadie Smith, Tom Wolfe, and Oliver Sacks — or books that I've heard good things about but haven't made the time to read (The Glass Castle). The other picks, Amsterdam, Moby Dick, and Small Town in Mass Society, were impulse buys, but I'm optimistic they'll be good reads.
In other news… last week was crazy-busy at work. We have quite a few local elections this year and a couple of big state-wide constitutional amendments, so I spent a lot of time working on a voters guide and editing many (many) letters to the editor. I think this week will be just as busy, but then think should hit a bit of a lull the week after… one can hope, anyway.
I'm hoping to get a lot of blogging done today so I can schedule posts out for the next couple of weeks and get caught up responding to comments. And if I have time, I'm in the process of reading a couple of books — Art and Politics Now by Susan Noyes Platt for a book tour this week and Consider the Fork by Bee Wilson. J.K. Rowling's new book, A Casual Vacancy, finally arrived at the library for me, so I might take a break and start that one tonight too.
What are you reading this fine Sunday?