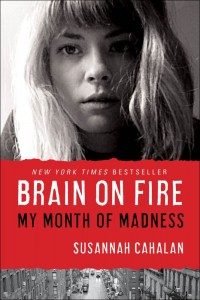 Title: Brain on Fire: My Month of Madness
Author: Susannah Cahalan
Genre: Memoir
Year: 2012
Publisher: Free Press
Acquired: Book Expo America
Rating:





Review: At 24 years old, Susannah Cahalan was poised to begin her adult life, setting out on her first post-college job and just settling into her first serious relationship. A month later, Cahalan woke up strapped to a hospital bed, unable to move or speak, after a terrifying autoimmune disorder almost took her mind and her life. In Brain on Fire, Cahalan reconstructs her month of madness through medical records, interviews with friends and family, and a journal her father kept throughout her ordeal to tell a story of what happens when our brains betray us.
Brain on Fire first came to my attention when it was featured at the Editor's Buzz panel at Book Expo America. The Editor's Buzz panel is cool feature of BEA — editors for five big books coming out this year get to talk about why they think the book is great. Brain on Fire was the only nonfiction selection on the panel, and the book that I was most excited to get my hands on. Then, I waited six months to read it because I wanted to write a review closer to the publication date (self-control, thy name is Kim). Luckily, this book was well worth the wait.
The first thing to say about Brain on Fire is that this book is nearly impossible to put down. Although you know Cahalan will survive her ordeal (since she couldn't write the book otherwise), it's intense reading about her breakdown and wondering how much of her is going to come back. It's entirely possible the Cahalan writing the book is different from the Cahalan who became ill, as readers we just don't know how that will work out. There's a lot of tension in that uncertainty and the exploration of health and personality.
The thing I most admire about the book was the way Cahalan reconstructed the time she can't remember. The early chapters about how the illness slowly started to affect her — paranoia, migraines, loss of feeling on one side of her body, anger, and, eventually, seizures — are really absorbing, but I most admire the way she fills in the "month of madness." It's equally gripping, but even more intellectually interesting, since she has to write about this person who is not her that she can't remember at all. I can't imagine how bizarre and scary that would be.
Admittedly, the book isn't quite perfect. Cahalan's explanations of the science of how the brain works and how her illness affected her brain feel a little unpolished, but I think that reaction might be coming because I've read a lot of very elegant science writing to compare it too. And there are some pacing issues near the end of the book, when Cahalan transitions from the time she doesn't remember back to her search for answers. But Cahalan is young writer (close in age to me, I believe), and so I'm confident if she continues to write those issues will work out with more practice. And really, they're so tiny in comparison to how gripping this story is that they're hardly worth worrying about extensively.
On the whole, Brain on Fire is one of those truly unputdownable memoirs (I know that's cliche, but it's totally true). Cahalan's experience itself is terrifying and exciting to read, but she also does the necessary work to put it in context and help the reader understand how something like this could happen (even if, for the most part, contracting a rare disease is entirely unpredictable). If you get the chance to read this book, take it.
I admit to some self-plagiarism — part of this post originally appeared on Book Riot. 
Other Reviews: JulzReads | Jenn's Bookshelves |
If you have reviewed this book, please leave a link to the review in the comments and I will add your review to the main post. All I ask is for you to do the same to mine — thanks!