Last December I signed up for my one and only challenge for 2012, Adam's (Roof Beam Reader) 2012 TBR Pile Challenge.  The goal of the TBR Pile Challenge is to read 12 books that have been your "To Be Read" pile for at least an entire year. And you're allowed to put 14 books on the list, in case two of them end up not working out.
I dutifully made my list of 12 books, even pulling them out onto their own "Shelf of Doom" — a phrase inspired by Jill (Fizzy Thoughts) — and then utterly failed the challenge. I only finished three of the 12 books I put on my list!
I'm really not sure what happened, other than I must continue to be allergic to reading the books I put on piles for challenges based on the way I seem to avoid them. The three I finished — Complications by Atul Gawande, Ex Libris by Anne Fadiman and Oryx and Crake by Margaret Atwood — were all wonderful; I'm just not sure what kept me from the others. Luckily (?) I'm not the only person who has this problem. According to Adam's "Final Stretch" post, only seven of the 123 people signed up in 2012 have finished their list. So I'm not alone.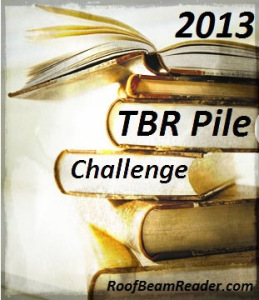 After some debate, I decided I'm going to try the challenge again in 2013. I thought about sticking with the same pile of books, but this morning I realized I was tired of look at that Shelf of Doom and wanted to create a mostly new one. Here's my 2013 TBR Pile Challenge List (with two alternates):
Special Topics in Calamity Physics by Marisha Pessel (2006)
Alone Together by Sherry Turkle (2011)
Bring on the Books for Everybody by Jim Collins (2010)
All the President's Men by Carl Bernstein and Bob Woodward (1974)
The Glass Castle by Jeannette Walls (2009)
Salt by Mark Kurlansky (2002)
House by Tracy Kidder (1985) (repeat from 2012)
Thunderstruck by Eric Larson (2006)
Cutting for Stone by Abraham Verghese (2009)
The Year of the Flood by Margaret Atwood (2009)
The Race Beat by Gene Roberts and Hank Klibanoff (2006) (repeat from 2012)
The Truth by Terry Pratchett (2000)
Possession by A.S. Byatt (1990) (repeat from 2012/alternate)
Rereadings by Anne Fadiman (2005) (repeat from 2012/alternate)
Honestly, this shouldn't be that hard. If I can read one book from the pile each month, I will easily finish it. But we'll see… reading challenges are like my kryptonite. That's probably a bad analogy, but you know what I mean.
In other news, I'm not sure what I will be reading today. I have a lot of blogging chores to get caught up with since I was away from everything for the last week. My plan is to start on those things right away this morning, take a break for breakfast and reading in an hour or so, and then settle in to write reviews and catch up on comments while I watch football this afternoon. Happy Sunday, everyone!