Winter has finally come to Minnesota with our first big winter storm. It's been snowing pretty steadily since late last night, after a warm up storm on Friday afternoon. At this point I think we're at about six inches, but it's also very windy which makes it hard to tell. West Central Minnesota is under a blizzard warning until tonight, with wind chills expected to hit -35 degrees overnight. Yay!
While I get that people who live places without wintry weather can feel nostalgic about walking in a winter wonderland, I do not share those feelings. The hour I spent shoveling my driveway this morning is enough to kick any warm fuzzy feelings I have about the snow right out the window. But anyway, enough complaining… it's going to be a long winter if I have an attitude about the snow already.
Before I went outside to unearth my car from the frigid drifts, I got to spend the morning reading a book. I've gotten in a nasty habit of starting my day out with television instead of reading, which has been good for keeping up on my shows, but not so good for my reading life (or, frankly, my mental health — reading helps keep me sane). It was nice to spend a few hours with a cup of tea, a big fuzzy blanket, and a fun book — Taft 2012 by Jason Heller.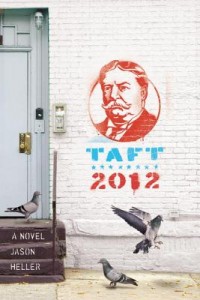 Because I'm lazy, here's a plot summary of Taft 2012 from Indiebound:
He is the perfect presidential candidate. Conservatives love his hard-hitting Republican résumé. Liberals love his peaceful, progressive practicality. The media can't get enough of his larger-than-life personality. And all the American people love that he's an honest, hard-working man who tells it like it is.

There's just one problem. He is William Howard Taft . . . and he was already president a hundred years ago. So what on earth is he doing alive and well and considering a running mate in 2012?

A most extraordinary satire, Jason Heller's debut novel follows the strange new life of a presidential Rip Van Winkle: a man who never even wanted the White House in the first place, yet finds himself hurtling toward it once more—this time, through the media-fueled madness of 21st-century America.
Taft 2012 was a really goofy book, but fit right into my ongoing love for fiction with a little bit of weird and pre-election craving for political stories. I thought the premise of this book — a time-traveling president who comes back and tries his had at politics today — was a lot of fun. Heller executes the premise well, making fun of the existing two party political system, the media, third party campaigns, political activists and the uneducated portion of the electorate. But there's also an ongoing subplot/political motivator related to America's food culture that didn't feel quite as convincing to me as an issue that would mobilize a person like Taft.
Despite a promising premise, the writing style doesn't do a lot of the book. The writing isn't bad by any stretch, but it's not the kind of writing that makes you want to mark passages to share later. If the premise isn't working for you, the writing isn't going to pull you back. But for the most part it gets the job done, and I liked the way Heller was able to give Taft a voice that felt  both historic and modern at the same time during some of his campaign speeches.
What I probably liked best about the book was how curious it made me to learn more about Taft himself. Although not the same type of biographical novel as I wrote about a few weeks ago, Taft 2012 includes just enough information about the real guy to pique my interest about a historical figure I don't know much about. I already sent out an inquiry tweet to @bonjourcass, who I know is a presidential history nerd, to see if she has any recommended reading.
Until I get some Taft recommendations, however, I'll probably be sinking my teeth back into Team of Rivals, a story about the administration of President Abraham Lincoln, or picking up Destiny of the Republic, a book about the life and death of President James Garfield. Now if you'll excuse me, there's an arm chair and fuzzy blanket calling my name while I wait out the rest of the snow storm. Happy Sunday, everyone!
Disclosure: I received a copy of Taft 2012 from the publisher for review consideration.