How does narrative help us process tragedy? That's the question I've been asking myself all weekend, after the shooting at Sandy Hook Elementary School led me down a rabbit hole of stories about school shooting.
As details about the shooting was trickling out on Friday afternoon, I was glued to the television and online news sources trying to find more information. That's my impulse when tragedy occurs, to just find as much credible information as I can. I have no patience for cable news speculation or "expert" interviews. I just want to know, from people who are close to the situation, what is going on. This is not unique to me, I'm sure, but I think it helps explain what I did next.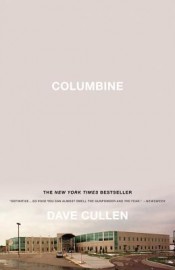 As I was getting ready for bed on Friday night, it got to a point where there wasn't going to be anymore information available. We knew some things, but the answers to so many other things were going to have to wait until morning. I was sad and frustrated… and then had this impulse to read Columbine, journalist Dave Cullen's definitive account of the school shooting at Columbine High School on April 20, 1999.
At the time (and truthfully, even now) it seemed strange. I figured I'd start the book, decide it wasn't really what I needed, and move on. Instead, I read almost straight through the book, starting with about 100 pages on Friday night and finishing it up with a long morning marathon read on Saturday morning.
Reading a book on one school shooting in the middle of another, on some level, doesn't make any sense. But for me, I think reading Columbine helped give me a narrative that I was looking for, even if the narrative had nothing to do with what was actually going on in the world. Cullen's book is not an easy read — he goes into incredible detail about the day of the shooting, then simultaneously backs up and moves forward to show what led two teenage boys to attack their school and how the community responded as those affected tried to recover. But for me, I think it emerged as a difficult and necessary read at this moment.  

Reading Columbine wasn't exactly comforting, but reading it did remind me that with time, hard work, and support the people directly affected by this tragedy will be able to move forward. They may still be angry. They will always feel a loss. But it's possible to recover from an experience like this one, eventually. I know that's sounds hollow today, just a few days after, but I believe that's true and I believe coming to that understanding was part of why I felt the need to read Columbine now.
Today, it sees like the first accurate narratives are being constructed about what happened at Sandy Hook on Friday morning. But those investigating this crime are still working on the why, and we as a nation are still working on the what happens next. Those are not stories will emerge quickly or easily or provide much comfort in the weeks ahead. But they're narratives we need to work on because we as humans eventually find comfort and strength in these stories.
I don't have a good concluding statement, I guess, other than I hope this post doesn't sound crass or insensitive to the people directly affected by this shooting. Moments like this one make everyone of of us feel something, and I just wanted to share what I was thinking about the last few days.