I'll be honest, I'm never sure if sharing a post of reading statistics is interesting to anyone but me. But since I find them endlessly fascinating, and this is my blog, you'll have to indulge me for this post!
One of the reasons I like doing statistics posts like this one is that I often find that my impressions of my reading — what kinds of books I read, what types of books I was reading — are often very different than what I actually read. I often overestimate the amount of fiction I read and while underestimating the number of review copies, for example. It's interesting for me to look closely at all of the information I gather about the books I've read and see what it can tell me about my reading life.
The Basics
110 books read (109 in 2011)
34,883 pages read (34,127 in 2011)
93.5 hours listened (58 in 2011)
671 pages per week (656 in 2011)
96 pages per day (93.5 in 2011)
Longest Book: A Clash of Kings by George R.R. Martin (873 pages). Interestingly, my longest book of 2011 was also by Martin (A Game of Thrones). Will my longest book of 2013 be another Martin book, A Storm of Swords (1,008 pages)?
Shortest Book: The Influencing Machine by Brooke Gladstone (181 pages)
Most Common Book Length: 288 pages (8 books)
Oldest Book: The Great Gatsby by F. Scott Fitzgerald (1925)
Books Published in 2012: 52 of 110 (47 percent)
Most Frequent Publisher: Crown (9 books)
Author Gender: 56 female authors, 51 male authors
Books by Genre
And now my favorite part of any book stats post, the charts! This first one shows a breakdown of my fiction versus nonfiction reading. Of the 110 books I read this year, 62 were nonfiction (56 percent) and 48 were fiction (44 percent).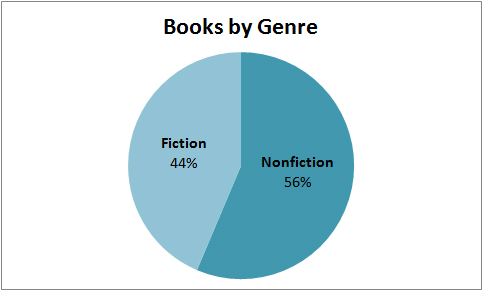 In 2011, I read 64 percent nonfiction and 36 percent fiction, so it looks like this year my amount of nonfiction went down just a little bit. I think, perhaps, that is because I had quicker access to more popular fiction from my local library, so I read more of the big fiction books from the year.
Books by Acquisition Type
This is always one of my favorite charts because it lets me know how I did on one of my goals – to balance reading my own books versus review copies and borrowed books. Of the 110 books I read, 38 were my own, 28 were borrowed, and 44 were review copies.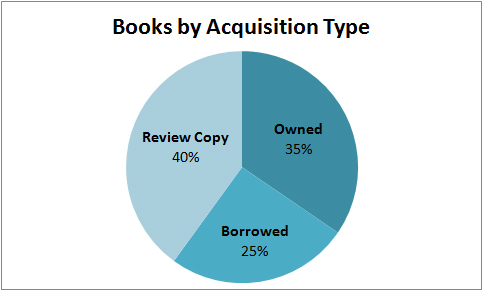 This makes me so happy because my goal for 2012 was 40 percent review copies, 30 percent library books, and 30 percent personal books. I was almost perfect!
Books by Format
One of the other things I keep track of is what format I read books in. As you can see, despite having an ereader and joining Audible, I still read comparably few ebooks (2 books) and audio books (7 books). In the past, this breakdown has mostly been just out of curiosity, but I think I am going to work format into my goals for 2013 since I seem to have the book acquisitions more in control.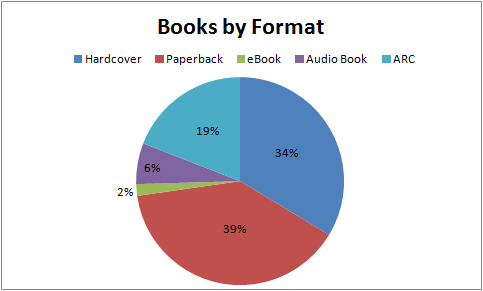 So there you have it, a look at my year in books complete with charts! I'm still finalizing my list of goals for 2013, but I'm hoping to have them ready by Sunday. Happy Friday!