Over the last three weeks, I've been reminded of the problem with trying to read everything: more often than not, it results me reading absolutely nothing.
I've never been a totally monogamous reader. I generally have a couple of books going at a time, either fiction and nonfiction or a physical book and an audio book, for example. And during my various essay a day attempts, I've had a book of essays lying around too.
But for the first part of January, I seemed to have five or six or seven books in progress (or, started and then abandoned). As a result, after finishing up two books rather quickly — Arcadia by Lauren Groff and Mastermind by Maria Konnikova — and then had a dry spell where I couldn't seem to finish anything because I was trying to finish everything. It's not a good way for me to read.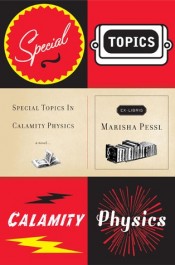 This week I finally had an "enough is enough" moment and decided to focus on finishing at least one book, Special Topics in Calamity Physics by Marsha Pessel. There's sort of an interesting back story to this book. When it came out in 2006 first came out I was really interested, bought a used hard cover at Half Price Books, bought it, and proceeded not to read it.
Somewhere in the last three years, I managed to lose the dust jacket (with the book description); When I decided to read it for my 2013 TBR challenge, I decided not to look up a plot summary before I started and just read the book without knowing anything about the plot. And that was a lot of fun!
Special Topics in Calamity Physics is the story of high school senior Blue van Meer, a well-read but isolated young woman who has traveled the country with her academic superstar father, Gareth. When Gareth agrees to settle down and stay in one place for the duration of her senior year, Blue is ecstatic. She's quickly drawn into a clique of oddballs known as the Bluebloods who worship their mysterious teacher, Hannah Schneider. But Hannah's eventually death-by-hanging, set up in the first pages of the book, causes Blue to investigate and question everything she knows.
The most obvious comparison for the book is Donna Tartt's The Secret History, another book about a group of students (this time in college) with a mysterious mentor who commit murder. I'm tempted to do one of those middle school "plot mountains" for both just to see how closely they align, but I'm not sure what that would reveal other than that this is a well-used plot.
What I liked about the book was Blue. She's deadpan and sarcastic, but also vulnerable enough that you can see her sarcasm is a shield to protect herself from the difficulty of being so transient during her youth. The book is set up as a course syllabus, so each chapter is titled after a book and, I suspect, offers up themes from the book in the chapter. I didn't spend a lot of time thinking about that part of it, but it'd be a fun exercise too.
The reviews for this one on Amazon and Goodreads are pretty mixed, and while I see where the criticisms come from, I just wasn't bothered enough by them to stop reading. I was absorbed by this book from beginning to end, and it kept me up late at night a number of nights in a row. I'm glad I finally read it and, now that it's finished, I can get myself to focus on one of the many other books I've started to try and read this month!
Happy Sunday, everyone! What are you reading today?