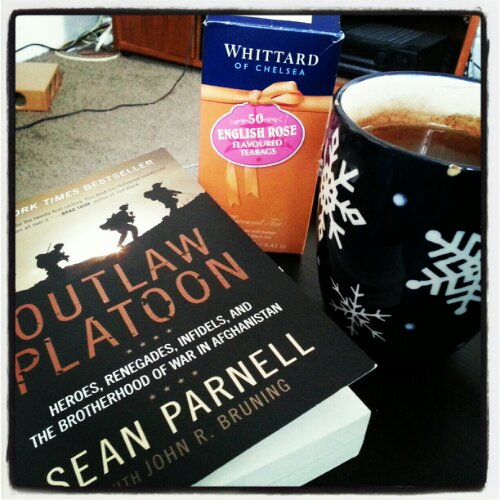 Time //11:40 a.m.
Place // At my desk.
Eating // Homemade chocolate chip cookies, the breakfast of champions.
Drinking // Whittard of Chelsea English Rose Tea, a tea I actually brought back from London when I studied abroad there about five years ago (I know, it's ridiculous I still have it). But, I'm down to my last few bags and am feeling really sad about it — this is delicious tea, and I don't know when I'll be able to get more!
Watching // The boyfriend and I have been watching Homeland. I also loved this weeks episode of Parks and Recreation.
Reading // I just finished Outlaw Platoon by Sean Parnell and John R. Bruning. It was an incredibly sad, disturbing, inspiring, important book. I'll be reviewing it Wednesday as part of a TLC Book Tour.
Thinking // About how to get my reading and blogging mojo back after a string of middle-of-the-road books (minus Outlaw Platoon) and an unpleasant reaction from an author to a review I posed this week. I'm feeling a little gun shy about review writing, but I'll get back in the game this week.
Listening // To the audio book of A Discovery of Witches by Deborah Harkness which, despite being rather silly, has been keeping me entertained for the last few weeks.
Hoping // That I can get at least one other book finished today, plus reviews/posts written for the week. I'm also hoping to get organized enough to post about a super informal read-a-long that I'm planning to co-host next month.
Anticipating // A quiet day with few responsibilities so I can read and write without pressure.
Reflecting // On the great time I had at the Prairie Gate Literary Festival this weekend. I got to see poet Ed Bok Lee and author/blogger Patti See give readings, which were refreshing and thinky. I'm going to end this post with the last few stanza's of Lee's poem "Whorled" from his most recent book (also called Whorled, and the winner of the 2012 Minnesota Book Award in Poetry):
In the beginning, there was a word, but it got lonely
So it prayed for brothers, sisters, and neighbors, and yes,
love was born, but along with it came shame, passion, greed, more
love, benevolence, and need

And soon some of the words became flowers and trees
And others animals, and eventually some were human beings;
Queens and Workers,
Kings and

Thieves
Happy Sunday, everyone! What are you reading today?