"Couples are jigsaw puzzles that hand together by touching in just enough points. They're never total fits or misfits. In time, a pair invents its own commonwealth, complete with anthems, rituals, and lingos — a cult of two with fallible gods. All couples play kissy games they don't want other people to know about, and all regress to infants from time to time, since, though we marry as adults, we don't marry adults. We marry children who have grown up and still rejoice in being children especially if we're creative. Imaginative people fidget with ideas, including the idea of a relationship. If they're wordsmiths like us, they fidget a lot in words."
— Diane Ackerman, One Hundred Names for Love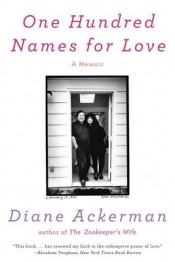 In 2006, writers Diane Ackerman and Paul West were at the hospital, again. Paul was receiving treatment for an infection, the most recent in a series of maladies over a 20 year period that had put Paul in and out of the hospital. The pair went to bed confident that they would be leaving the hospital the next morning to continue Paul's recovery at home. The next morning, lightning struck. A blood clot, filled with bacteria from the kidney infection, traveled to Paul's brain, cutting off blood flow from one of his major arteries:
The tests revealed that Paul had a massive stroke, one tailored to his own private hell. In the cruelest of ironies, for a man whose life revolved around words, with one of the largest working English vocabularies on earth, he had suffered immense damage to the key language areas of his brain and could no longer process language in any form. Though not visible in the CAT scan's chiaroscuro world, other vital language areas has also wilted, leaving a labyrinth of fragile liaisons hushed. Global aphasia, it's called. Paul's aphasia was indeed global, round as his head, a grief encompassing our whole world. I'd never heard the expression before, and didn't want to think about the full cartography of loss. Yet I had no choice because someone had to make decisions about his care — informed, clear-headed decisions.
Paul's outlook seemed grim. No one at the hospital expected that he would recover fully, if at all, from the stroke that ravaged his brain, destroying many of the key language areas in his brain. In One Hundred Names for Love, Ackerman writes about the five years after Paul's stroke — his daily struggles to make himself known, the challenges an illness that takes away language does to a relationship built on words, and the process of designing a new life in the wake of a condition that all but destroys what used to be.
I picked up this book on Sunday on a bit of a whim; I was struggling to get into the two books I'd planned to read during the day, and thought that a memoir about love would fit into the romance of this week. Although I was confident I'd enjoy the book, since I was familiar with Ackerman and her style from The Zookeeper's Wife, I didn't expect that it would get into my heart as deeply as it did.
What happens to Paul (and, by extension to Ackerman and to their relationship together) is one of the more heavy calamities that I can imagine — to have a life built on words taken away would be devastating. Yet the memoir isn't nearly as grim as I imagined it might be. There are several early points in the book where Ackerman looks forward, offering Paul a chance to explain what he was feeling at a particular moment or to describe what his early battles to find words felt like to him. Although she never makes much of a verbal flag at these moments, they are enough to indicate to the reader that despite how dark things seem, at the point where the memoir concludes life for the couple has moved forward enough to be bearable, even good. I thought these moments were vital, and perfectly placed at moments when I was starting to lose hope for them myself.
Ackerman is also a gifted science writer. Although this is a memoir, it's filled with research about how the brain works and the science that helps explain the damage to Paul's brain and how he has been able to rebuild the neurons in his recovery. But, truly, the best part is how poetically the science is included — it's easy to miss or simply read through because it's done so elegantly. Take, for example, this description of the ways in which neural pathways are rebuilt through rehab:
Ideally, post-stroke rehab should play to each patient's strengths, the dense knots and networks of gray matter developed over a lifetime of use, one's own private larder or offshore bank account. In college courses, a teacher often encounters the rubric of "all that must be learned," but discovering how each student learns best is far more effective. It takes longer, and ideally the student and teacher will be a good "match." The same is true with rebuilding after a stroke. Not just remodeling from scratch, but finding extra or out-of-the-way storehouses, and rewiring paths to them, bushwacking with unconventional tools if need be, uncovering lost or meandering trails, guiding by invisible and at times intuitive maps.
Certainly, there are times when the style seems a little much, a little more lush or repetitive than it needs to be, but on the whole I appreciated reading about many of the things I know about neuroscience in a wholly new way.
I can't recommend this book highly enough. Although the relationship Ackerman describes is idiosyncratic, in honing in on the specifics of their life together she managed to write a book that almost perfectly describes the common strangeness that every relationship has. Their partnership, although strained and irreparably changed by Paul's stroke, is a joy to read about, and this book is one I won't soon forget.
Disclosure: I purchased my copy of One Hundred Names for Love.