Place // At my desk in my office… this is starting to be a theme, isn't it?
Eating // A buttermilk biscuit with strawberry jelly from a smitten kitchen recipe
Drinking // The Republic of Tea Blood Orange Cinnamon tea

Watching // Season seven of The West Wing. I just finished watching the election episodes last night and wow, tense. I've been really loving this season, in particular the great scenes with C.J. Cregg and Kate Harper — powerful ladies doing important things!
Reading // Nothing, at the moment. I finished Big Data by Viktor Mayer-Schönberger and Kenneth Cukier yesterday afternoon and haven't started anything new yet. I spent most of yesterday afternoon writing instead of reading. I think my next book is going to be The Girls of Atomic City by Denise Kiernan.
Listening // To the audio book for Outlander by Diana Gabaldon. The boyfriend and I will also be driving today, so I may sneak in an episode or two of Pop Culture Happy Hour (I'm like, two months behind).
Making // I finally finished a crocheting project this week, a scarf using Tunisian crochet. I don't have a decent picture of it — I need natural light so the colors really show up — but suffice it to say it's nice to have finished something. I've been neglecting my crocheting for awhile.
Promoting // One of my favorite websites, The Electric Typewriter, over at Book Riot. It's my current go-to source for good essays and lists of contemporary journalism.
Anticipating // A longish drive to St. Cloud today to meet my family and celebrate my dad's birthday. My family lives about three hours away, so we made plans this week to meet approximately in the middle for lunch today. Which would be fine, except my part of the state got rain followed by snow yesterday (thanks, March!), so I'm not sure what the roads will be like. If they are bad, the boyfriend and I may just need to stay home (something I would be really disappointed about).
But I suppose if that were to happen, I'd give me more time to read, write, and power through the last five episodes of The West Wing this afternoon instead. But I really want to see my family (and go shopping)… I hate winter.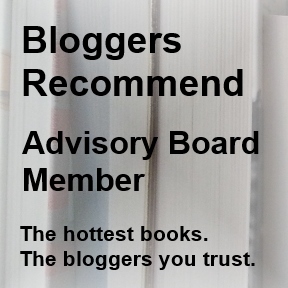 Edited to Add: I almost forgot to share some exciting news about a new project I am involved with: Bloggers Recommend, a monthly newsletter where bloggers share their most anticipated books of the month. It's a project being organized by Jen (Devourer of Books) and Nicole (Linus's Blanket), and the Advisory Board has some pretty awesome people on it (if I do say so myself). Sign up for the newsletter, it's going to be great!
Happy Sunday, everyone! Check back tomorrow for the first check-in post for our read-a-long of Possession and a special blog milestone post on Wednesday.