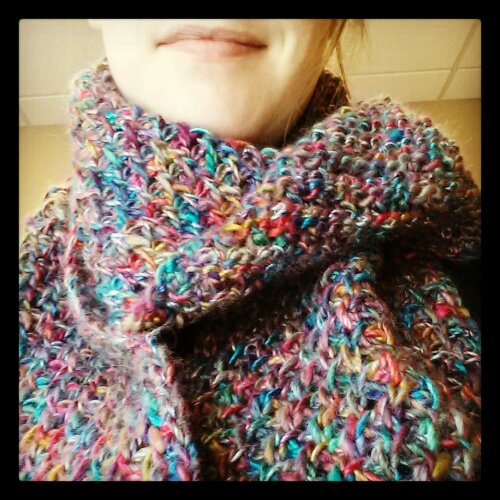 Time // 8:51 a.m.
Place // At my desk in my office — I need to get out more. 
Eating // Chobani Greek yogurt, peach flavored
Drinking // Bigelow Lemon Lift tea

Reading // The only book I finished this week was The Girls of Atomic City by Denise Kiernan, despite feeling like I was reading a lot. I think I got into a mode where I wanted to read All The Things and ended up reading nothing. But, I'm hoping for some reading time today to finish a couple of April releases: David Sedaris' Let's Explore Diabetes with Owls and Mitchell Zuckoff's Frozen in Time.
Watching // I finished watching The West Wing last Sunday night (sigh, so good), and so have felt adrift in my television watching this week. I think need something funny, short, and with only a few seasons as a contrast. So instead of television, Nate and I have been watching a bunch of movies — Skyfall, Wreck-It Ralph and Water for Elephants (well, that last one was just me). I don't watch a lot of movies, so this is a little out of character.
Listening // For whatever reason, I haven't been in the mood to listen to anything (audio books or music) this week. I've spent most of my time listening to the sounds of silence and it's been wonderful.
Making // I didn't craft anything this week, but did want to share a photo of the scarf I finished last week. I used an Instagram filter to try and make the colors look a little more realistic, which mostly worked. I just wish it was warm enough that I didn't have to wear it.
Promoting // I really loved this post by Kevin Smokler over at Book Riot — "What Re-Reading 50 Books in a Hurry Taught Me About Reading Slowly" — especially this paragraph:
At war with sinking in and deeply enjoying reading is not the number of books out there but our pathological delusion that we will someday "finish" them all. We will not, and we know this. But our entire system of culture consumption is set out around queues–lists of books, movies, songs, and news articles we'd like to remember and "get to." It's a great service to have these reminders for what we want to read, listen to, and see. But their very nature creates a completely false urgency that every time we finish something there's a long line of other somethings waiting, tapping their feet impatiently and saying "get on with it."
Hating // March. It has been an awful month of rain, snow, and cold temperatures. I just want spring to come.
Exploring // With the distressing announcement that Google is shutting down Google Reader on July 1 (rage!!), I've been playing around with new RSS reader services this week, but haven't been happy with any of them. I need a service that works equally well online and with an Android app that doesn't have a lot of bells and whistles. Feedly is almost what I want, but the interface is too fancy and it annoys me. When I finally find something, I'll let you know.
Anticipating // A trip to the gym this afternoon to finished Week 3 of Couch to 5K. I think I will be more excited about diving into this program more whole-heartedly once it warms up and I can run outside… I've never been a consistent runner (or someone who runs outside), but that is all I have wanted to do lately.
Planning // My goal is to make today a full day of reading and writing. I discovered last week that if I don't get at least a start on the posts I'm planning for the week, I won't have the motivation to write them later (hence, no post last Friday). But I've got a couple of reviews to catch up on, an update for our #readbyatt readalong, and a post for Book Riot to keep me occupied today.
Happy Sunday! What are you reading today?