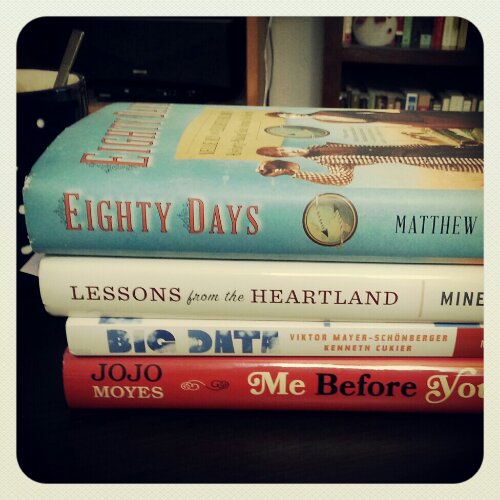 Time //8:15 a.m.
Place // My desk.
Eating // Mini-marshmallows.
Drinking // Whittard of Chelsea English Rose Tea, same as last Sunday morning.
Reading // I decided to have a personal, mini-readathon this weekend. I have four books on my list: Eighty Days by Matthew Goodman, Lessons from the Heartland by Barbara Miner, Big Data byv Viktor Mayer-Schonberger and Kenneth Cukier, and Me Before You by Jojo Moyes.
I finished Eighty Days and Me Before You yesterday, and I think I can finish the other two this afternoon.
Thinking // About Me Before You, the book I finished laaaate last night before I went to bed. It made me just sob like a baby (which is what I wanted, I haven't had a good book cry in awhile), but I don't think it made me cry for the reasons you might expect. I just loved the main character, Louisa Clark, and was so proud of her as the book progressed. I really want to talk about this one (but it's hard without spoiling the plot… dilemma)!!

Listening // To the audio book of Outlander by Diana Gabaldon. After I finished A Discovery of Witches last week, I decided I wanted some more epic fantasy romance. Since The Estella Society is hosting a read-a-long of the book (hashtag #NakedJamie), I decided I might as well give it a try. I'm only a little ways in (and the audio book is like 32 hours long), but I'm liking it so far.
Hoping // That I can get two more books read, plus three posts written for the week. And cook a pot roast. And clean out my inbox. It's going to be an enjoyably busy day.
Experimenting // With some different photo-editing apps for my new phone (Samsung Galaxy S III). Anyone have suggestions of a favorite?
Anticipating // Starting Possession by A.S. Byatt for the readalong Lu and I are hosting. Details are in the linked post, but our first (completely optional and pressure-free) check-in is for chapters 1-6 on Monday, March 11. And breakfast… I'm hungry.