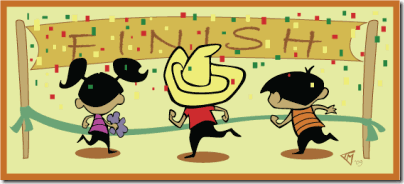 The Finish Line
This post has gotten a little wonky, trying to do updates while also not adding new posts. At this point it's in reverse order, with the most recent stuff at the top. Whatever. That's not really important.
I think I had a pretty successful Bloggiesta. I ended up with 17 things on my list and managed to cross off 11 of them and partially complete another four. I'm most happy with the fact that I got my About Me and Review Policy pages updated. I also added a contact form with a plugin, which will be nice to have.
But that's about it. I'm blogged out. Happy Bloggiesta, everyone!
Update #2: Sunday noonish
Woo! I got my e-mail basically cleaned out. That feels awesome. I wish I were better at staying caught up on that. I also got my review spreadsheets up to date (I have two, one for books I've read and one for books I have plans to read). So it looks like this afternoon will be full of reading, writing, and researching for various projects. I found a great post by a fellow book blogger about switching RSS/e-mail subscribers from Feedburner that I'm going to look into this afternoon.
Update #1: Saturday evening
I've had a pretty good Bloggiesta so far. The first few tasks on my list (#1 through #5) didn't take nearly as long as I thought they would, which is exciting. I spent some time this afternoon reading, and now I'm going to work on some mini-challenges.
First, Google Reader Replacement Options: After going through all of the reader options Jenn highlighted, I think I am going to stick with my initial switch to Feedly. I don't love the interface and it is a little frustrating that you need to install it on different computers, but of the options it has best mobile app (I read a lot of blogs on my phone). However, I'm still looking to see how The Old Reader works (I'm waiting for my feeds to import).
Second, Declutter Your Sidebar: I moved things in my sidebar around to get the ad in the second column closer to the top. I also took out a widget for recent comments and added a widget to show recent reviews. My sidebar is still really text filled though; I'm not sure what to do about that.
For the rest of the night, I'm going to try to work on projects #9 (e-mail) and #10 (research) before going back to my book.
Introduction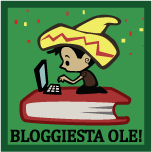 Hola! This weekend is the Bloggiesta, a weekend blogging marathon designed to help book bloggers tick off those silly blogging tasks that get stuck on your to do list. One of the ways I manage to fit this blog into my life is that I avoid doing blog maintenance regularly — it ends up being a time suck when I'd rather read or write book reviews.
But that also means I sometimes have to take a day or two and really catch up on these little nagging projects so the rest of the time I can blog without worry:
Update my About Me page

Update my Review Policy
Catch up on comments
Update LibraryThing
Edit and schedule: Review: The Girls of Atomic City
Write and schedule: #readbyatt: Update the Third
Read a book
Write and schedule a review of that book
Clean out my e-mail
Research for Book Riot post
Review plugins and see if there are any I should add/replace
Bloggiesta Mini-Challenge: Google Reader Replacement Options (response here)
Bloggiesta Mini-Challenge: Through a Visitor's Eyes
Bloggiesta Mini-Challenge: Declutter Your Sidebar!
Bloggiesta Mini-Challenge: How to organize your reviews using Excel (I already have a review spreadsheet, but I want to look at her ideas to maybe update mine, and get caught up with the spreadsheet)
ADDED: Add tags to old posts
ADDED: Research FeedBurner alternatives
That list looks much longer than I thought it would… Oops. Anyway, that's what I'll be working on this weekend. Feel free to check back at this post over the weekend to see how I'm doing — I'll be crossing off projects and adding any updates here. Happy weekend!
Random text: Follow my blog with Bloglovin