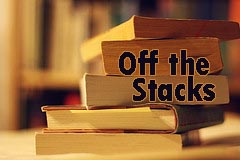 One of my very favorite things in the world is sitting by the lake at my parents' cabin in Wisconsin with a good book (I've posted about this SEVERAL times before). I regularly make a pilgrimage there for a long weekend in the spring and an even longer weekend over the 4th of the July. Given our horrible, un-Spring-like weather this month, I've spent more time than normal yearning for a quiet summer weekend with the lake breeze in my hair and a margarita by my side.
As much as I love nonfiction, my favorite books for lakeside reading are almost always fiction. It's easier to turn off my "book reviewer" brain and just get lost in a good story. I've also bought a lot of fiction in the last several months, books that are just screaming to be read on a warm spring day.
Today I thought it would be fun to share eight of the titles I've bought lately and see if you, my dear readers, have recommendations about which of these fine books I should read first. This is (coincidentally) very similar to the topic of last week's Top Ten Tuesday, a weekly meme hosted by the ladies at The Broke and the Bookish. I've never participated, but I do want to give them a shout-out since I've adapted their idea for this post.
Anyway, 8 titles languishing on my bookshelves are:
The Orchardist by Amanda Coplin — I bought this one impulsively during a rare visit to B&N after Melissa (The Betty and Boo Chronicles) mentioned it on her blog. After she called it "absolutely flawless" in her review, I became desperate to read it myself.
The Legend of Pradeep Mathew by Shehan Karunatilaka — I can't exactly remember why this one got on my radar (the Bookrageous podcast, perhaps?), but it's been taunting me since I bought it.
Billy Lynn's Long Halftime Walk by Ben Fountain — All the chatter about this book in the Tournament of Books finally pushed it over the edge from "curious about" to "taking up space in my house." I want to read it now!
Sharp Objects by Gillian Flynn — I loved Gone Girl enough that I wanted to catch up on Gillian Flynn's backlist. Hence, Sharp Objects came home with me.
Out by Natsuo Kirino — New Book Riot contributor Rachel Smalter Hall recommended this murder mystery/"crazy treatise on enslaved middle-class housewives in Japan" as one of her favorite badass female revenge thrillers. It sounded awesome, so I bought it.
The Lost Art of Keeping Secrets by Eva Rice — Meg (write meg!) mentioned this book in a list of love stories that won't make you gag. I happened to find a copy at a used book store and promptly bought it because Meg said it was one of her favorite books of all time.
Pride and Prejudice by Jane Austen — I just got caught up with The Lizzie Bennet Diaries, but instead of feeling morose that there is ONLY ONE MORE (sob!) I decided it would be fun to visit the source material (which I've never read).
Life After Life by Kate Atkinson — I got a surprise galley of this one a couple weeks ago and I have my DYING to read it since. I know, I know, I didn't technically buy this one but whatever… it's my list.
So, readers. What books have you recently acquired? Do you have any books you're saving to read by the beach/pool this summer? Which of these books do you think is a "can't miss" read?
Photo Credit: Ginnerobot via Flickr