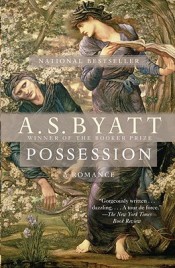 Possession! Section three of our read-a-long (or should it be readalong? Or read-along? I have no idea.) was another good one with lots of exciting plot twists (but less Mortimer Cropper than I would have liked).
I actually read this section in two long sittings last Monday and Tuesday, so all the details are slightly fuzzy. We'll see how this little re-cap goes! (FYI: You can read my thoughts on section one here and second two here).
Our Story So Far (Chapters 14 — 19)
In Chapter 14, Roland and Maud continue to go exploring around Yorkshire and have a rather romantic moment — complete with Maud finally letting down her hair — on a beach. Am I the only one just waiting for Roland to leave Val in order to live a more exciting life with Maud?
And then Chapter 15, OMG! We find out VERY EXCITING things about Randolph and Christabel that I suppose I already knew but was excited to have confirmed in the way Byatt chose to write about it.
Chapter 16 is the text of Christabel's epic poem, "The Fairy Melusine," followed by Chapter 17, in which other scholars start to make progress on figuring out what Roland and Maud are doing.
And then the story takes another major turn in Chapter 18. It feels like many threads of the story finally come together, resulting in Maud and Roland taking off for France to see if they can finally uncover what they need to know to prove Randolph and Christabel had a relationship. Much is then revealed in Chapter 19, most in a diary by Sabine de Kercoz (a distant cousin, I think) of Christabel.
Some Thoughts on the Book
I have to admit, I haven't been entirely surprised by some of plot twists. Without being too spoilery, I think I've been reading under the assumption that Randolph and Christabel did have a relationship and that the relationship was much more involved that even Roland and Maud suspected. So when certain revelations came about in Sabine's diary, I wasn't shocked.
But what I'm also learning is that the pleasure of this book, for me, isn't entirely in the plot. It's in the construction and the woven threads and seeing how Byatt is going to bring them together, if Roland and Maud are going to be able to prove what they think they know (and what we as readers know). There's a lot to tie up in the last section, and I can't wait to get to it.
Onward and upward!
So, readers, what was the best/worst part of this section? Any predictions for the rest of the book, which we'll finish up next Monday, April 1?