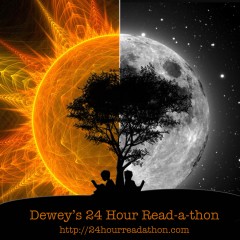 Happy Read-a-Thon everyone! Like I said in my book stack post yesterday, I'm going to use my neglected Tumblr, A Little Bit of Dorkiness, and my Twitter feed (@kimthedork) for updates throughout the day.
But I saw on Twitter that Jenn of Jenn's Bookshelves links up her Tumblr posts to a main update past on her blog, which seemed like a good idea. So I'm going to copy here — you can find updates quickly on Tumblr, but I'll occasionally stop in here to respond to comments as needed and post links to what I'm up to.
Happy Readathon!!
And that's where I'm calling it a night. Thanks for all of the comments and cheering and good old bookish nerding out, everyone. I'll be back tomorrow with my regular Sunday Currently post and the closing survey for the readthon. Happy reading!