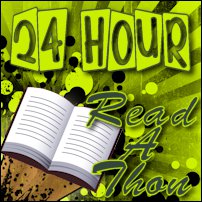 The Readathon is coming!
Tomorrow, Saturday, April 28, is Dewey's Read-a-Thon, an excuse for book nerds around the world to set aside their responsibilities for a day to spend an entire day reading. While this is what I end up doing most Saturday afternoons, there's something special about doing it at the same time as nearly 400 other people around the world.
I'm going to try something a little different this year. Rather than making updates on a post on this blog, I'm going to use my neglected Tumblr, A Little Bit of Dorkiness, and my Twitter feed (@kimthedork) for updates throughout the day. It's supposed to be beautiful and spring-like in Minnesota tomorrow, so I'm hoping to be outside much of the day. Since I can update Tumblr easily from my phone it seems like a good option.
I may do a couple of check-in posts here as well, but for the most part I hope you'll see updates on Tumblr if my readathon progress interests you.
One of the traditions for a readathon is to pick out a book pile ahead of time. When I'm in the middle of the readathon, the prospect of choosing my next book from all of the books in my house (well over 300 unread at this point), is overwhelming. So I like to pull out a stack of options to choose from. I also love to go to the library and pick out some special readathon books. Here's the stack I put together for tomorrow: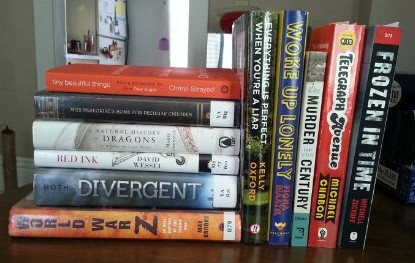 And if the titles are hard to read, here's a list:
Tiny Beautiful Things by Cheryl Strayed
Miss Peregrine's Home for Peculiar Children by Ransom Riggs
A Natural History of Dragons by Marie Brennan
Divergent by Veronica Roth
Red Ink by David Wessel
World War Z by Max Brooks
Everything Is Perfect When You're a Liar by Kelly Oxford
Woke Up Lonely by Fiona Maazel
The Murder of the Century by Paul Collins
Telegraph Avenue (section 4) by Michael Chabon
Frozen in Time by Mitchell Zuckoff
It's way more books than I can read in a day. If I'm lucky, I'll get through four of them, plus a section of Telegraph Avenue. But that's pretty darn ambitious, given my past readathon performances.
I think I'm going to start with Frozen in Time because I need to post a review for a book tour on Monday. After that, my day is up for grabs. I'm planning to save Divergent and Miss Peregrine's Home for Peculiar Children for late in the day, since I've had several people suggest they're fast reads (which is what I need when it gets dark at night).
Tonight I need to go pick out some snacks and finish up the last few chores I didn't get to this week. Then I can settle in tomorrow without guilt that I'm ignoring something important that needs to be done. I am so very excited.
Are you participating in tomorrow's readathon? What books are you looking forward to? And thoughts on which books I should make sure to get to tomorrow?