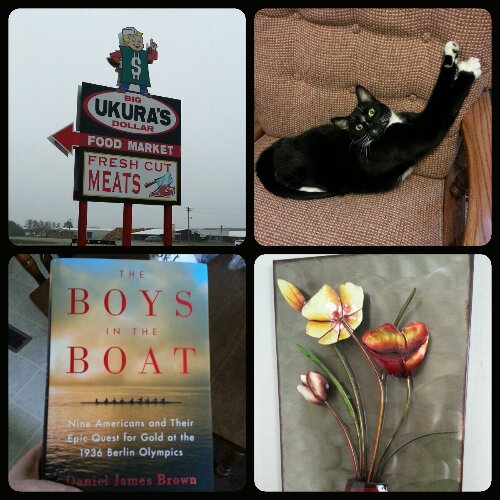 Time // 8:50 a.m.
Place // My sister's couch in Minneapolis
Eating and Drinking // At the moment, a glass of water. But I hope we're going to go out and get some fancy coffee and donuts soon.
Reading // I had to go look at my Goodreads queue to figure out what I've been reading this week! It's been one of those sorts of busy, no time to settle in sorts of weeks. But I did finish two books, All the President's Men by Carl Woodward and Bob Bernstein and Queen of the Ait by Dean Jensen, which is a June release about the two most famous circus aerialists in the 1930s. I thought it was awesome.
Yesterday I stared reading The Boys in the Boat by Danie James Brown, which is about the U.S. Olympic crew team in 1936. I have a total weak spot for historial sports nonfiction, so this one seems to be right up my alley so far. I'm also slowly making my way through Getting Things Done but David Allen and getting nerdy excited to try implementing his systems to get my life more organized.
Watching // I didn't have much time to watch much this week. I think I forgot to mention that I finished season four of Fringe last week or the week before (the season got MUCH better about six episodes in), but I'm holding off a bit on starting the final, abberviated season. This week was all about season finales for the shows I've been into. My sister and I watched the finale of The Office last night, and although it was a bit heavy-handed it was also nostalgic and funny and lovely.
Listening // I'm taking a break from my current audio book — Insurgent by Veronica Roth — to catch up on some of my favorite podcast, Pop Culture Happy Hour. I love those guys, but I'm bad at keeping up week-to-week and so end up getting caught up in big batches.
Working // I have had a crazy couple of weeks at work, but they've been the good, lots of news to cover and write about kind of crazy. This Friday I got to come down to the Twin Cities to see our local FFA (Future Farmers of America) chapter teach some inner city elementary school kids about where their food comes from. There is really nothing more fun than taking photos of little kids with animals.
Updating // Last week I mentioned a phone photography class that I was thinking about signing up for. I decided to just go for it, and I'm happy about that decision. I take a lot of photos on my phone, but I want to improve them. I think that'll be fun. Plus, starting it on the week of my vacation will be fun because I'll have new and interesting things to take pictures of.
Anticipating // My sister and I are heading out to do some shopping this morning, including a stop at Half Price Books, one of my favorite places to visit. I got rid of about 20 books this week, so I'm anxious to sell a few (and see what goodies I can bring home). After that, we're meeting one of my best friends from college for brunch at a place that does $2 mimosas. Yum.
Organizing // The "to do" list application that I have been using, Astrid, appears to be going away thanks to an acquisition by Yahoo. So I'm shopping around different apps and looking for some recommendations. Right now I'm testing out Remember the Milk and Todoist, but I can't seem to make up my mind on either.
Wanting // I would love if there was a way to teleport from where I live to the Cities. The drive isn't long, about 2.5 hours, but it's awfully boring. I'm not really looking forward to it this afternoon.
Apologizing // I'm sorry for any typos in this post! I'm writing it on my tablet in the WordPress app, and I don't think there's a way to do spell check… that's annoying!
Hmm… I'm at the end of the post, and I don't think I've explained any of the photos in my picture at the top… so, from top left going clockwise: the sign in front of a grocery store that is owned by a distant relative, Hannah stretching in a super weird way, some art that I bought last week, and my current read, The Boys in the Boat.
Happy Sunday, everyone! What are you reading today!